BEAUTY: SHOP TOUTS AMBIANCE, CLEANLINESS; PRICES DOUBLE RIVALS
Posh Nail Salons Competing With Discounters in Recovering Market
Saturday, May 7, 2011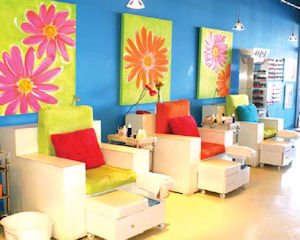 Upscale salon owners are going after different customers, according to Cathy Freeman, co-owner of The Nail Lounge in Costa Mesa.
"They are more upscale customers who haven't been as affected (by the economy) as I think other people have," she said.
Prices at The Nail Lounge vary, with specialty pedicures running up to $72.
What previously was seen as a recession-proof service saw a drop when the economy hit its worst point around 2009, Nails Magazine's Lee said.

"People were stretching out the amount of time in between appointments," she said. "If they were getting manicures once a week, they changed that to every other week."
The business pretty much has bounced back, according to Lee.
But for many, the mindset of the recession lingers. And competition from discount shops is constant.
"I was definitely nervous," said McCarter of Retro Beauty Bar, which opened last month. "The first week, I was having a panic attack every night. I kept thinking 'What if I can't pay the rent?'"
McCarter, who previously co-owned a nail salon in Hermosa Beach, said she was pleased with business during the last weekend in April.
"We've been slammed," she said. "Now I can pay the rent."
The emphasis at upscale salons is on service, according to Haiflich of Rosey Toes.
Customers are given special attention and proper service time, and her salon uses quality products, she said. Employees present lotions, scrubs and polishes in a way that is appealing to the customer, she said.
"I know the importance of presentation," Haiflich said.
Haiflich bought the salon after the prior owner had kids and wanted to sell. She had been a customer.
Clients range anywhere from their early 20s to late 50s. They typically are well educated and well traveled and can afford to go to any salon they want, Haiflich said.
Haiflich said she's raised prices once in the past couple of years. She said she has no plans to raise them again, despite rising product costs.
Extra sanitary precautions at upscale salons add to expenses. Rent and insurance are the biggest costs, according to owners. Product costs also are hefty.
"All the products—lotions, scrubs, oils, polishes—as well as the cleaning solutions really add up," Haiflich said.
It cost McCarter about $15,000 to start her Retro Beauty Bar, all of which she said she funded herself. Haiflich said she took out a loan to buy Rosey Toes.
Running a nail salon isn't a big moneymaker. A fifth of Nails Magazine's survey respondents, 21%, said they make average weekly income of $150 or less. Fourteen percent said they make more than $750 per week.
"It's not a business where I'm going to retire and have a ton of money," Haiflich said. "I just want to be happy and actually enjoy going to work."
Gomez is a former Business Journal editor and freelance writer based in Long Beach.
Prev Next