THAT'S WHERE BAIN WANTS CALIFORNIA HAZARDOUS SERVICES TO BE
In the Trenches
Sunday, June 5, 2011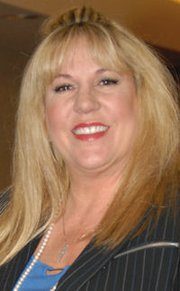 Belinda Bain doesn't view herself a trailblazer but she certainly has the credentials.
She's invented products that are sold globally, runs four distinct companies and made her way in an industry dominated by male engineers and clean-up crews.
When Bain started her career in the waste removal business 25 years ago, there were very few women in the industry.
"It was really tough," she said.
After a two-year stint working at the San Onofre Nuclear Generating Station handling nuclear waste removal, she decided to start her own business.
It wasn't long before she landed her first contract to clean fuel tanks and remove contaminants at a Texaco gas station.
"I just kept knocking and wouldn't let up," said the president of Santa Ana-based California Hazardous Services Inc. "I don't take no for an answer."
Bain was among five local businesswomen honored last week at the Business Journal's 17th annual Women in Business awards luncheon May 25 at Hyatt Regency in Irvine.
As her business grew, it started testing petroleum equipment and landing big contracts with hotels, hospitals and trucking companies.
Most of the company's current work is centered on servicing emergency generators.
California Hazardous Services employs 23 people and has a fleet of 26 specialty vehicles designed to carry certain kinds of waste or handle power service.
Inventions
As Bain gained more experience in the field, she started tinkering with inventions. Her engineering background led to the invention of the Soil Surgeon, a hydro-excavating tool that digs 10 feet in a minute. The tool, launched under the Soil Surgeon Inc. banner about nine years ago, is popular in the sewer industry for locating and removing pipe lines.


"Now I market that around the world and sell it to water districts," she said.
Bain received another patent three months ago after designing a sump ceiling kit for fuel tanks. That product is sold under B&B Enterprises.
"I'm a no-nonsense girl— I'd rather be in the trenches," she said. "That's what I thrive on."
Bain recently branched into new territory by cofounding Action Zipline Tours at Big Bear in the Inland Empire.
"I like business, the nuts and bolts of things," she said.
A vacation trip to Colorado four years ago and a zipline tour there planted the idea.
California Hazardous Services was feeling the strains of the recession at the time and Bain was looking to diversify.
She designed and built nine zipline runs in five months and began offering three-hour tours in the forest. A 30-foot rock climbing wall for team building exercises recently was built.
"The first three months weren't so good, but now we're finally busy," Bain said.
The new business caters to different demographics, from kids and their families to young adults and seniors. Bain likes to recount the story of a 97-year-old thrill seeker and his 95-year-old wife taking their first plunge.
"It is so peaceful," she said. "It's great for families and it's something everybody can do."
She recently designed one of the first portable ziplines and is negotiating with the Los Angeles County Fair to include it at this year's events. Another patent application is in the pipeline.

Bain balances caring for her two children and husband with working more than 60 hours a week.
She also finds time to champion women's causes as a member of the Minority & Women Business Enterprise Council.
"I think I have helped lead the way for women to get into male dominated industries," said the Laguna Niguel resident. "I hope I encourage a lot of other women."