THIS YEAR'S ACTION PROMISES MORE IN 2012
Year in Review
Sunday, December 11, 2011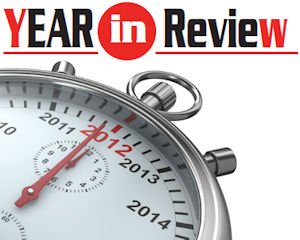 A lot of Orange County's big stories for 2011 will get bigger next year.
That's because a number of big deals that made headlines this year are expected to become final or take full effect in 2012.
Broadcom Corp., the biggest chipmaker here, is set to get bigger with a $3.7 billion acquisition expected to close in the first half of next year.
Western Digital Corp., the world's biggest disk drive maker, is also in line to get bigger thanks to a pending $4.3 billion deal of its own.
Fresh arrivals are scheduled to become part of the business landscape of Orange County, where Irvine-based Opus Bank zoomed to the top of the locally based banks in terms of assets, and Pacific Trust Bank looks set to take the second spot when it moves its headquarters from Chula Vista to Irvine.
New products will go on the market next year, with a groundbreaking heart valve developed here leading the way.
Big, long-term contracts are expected to hit full stride for a number of businesses, including Panasonic Avionics Corp. in Huntington Beach, which just landed a $1 billion deal.
Sales at the largest shopping centers in Orange County continued a rally back from the depths of the recession (see related story, page 1).
There was no shortage of moves to stir business this year, despite a slowdown that put a damper on sentiments locally and nationally during the summer.
There seems to be signs of a pickup more recently, offering hope that the economic recovery will go from what's been a spotty performance to something more solid in 2012.
Any such progress will make 2011 look like a scene-setter, thanks to the acquisitions, fresh arrivals, new products and big contracts.
Some Struggles
It hasn't been all good news. Some companies have struggled, and others have shed assets through bankruptcies.
Long-established homebuilder William Lyon Homes is grappling with a mountain of debt, laying out plans for a reworking of operations with an eye on an eventual return to profitability.
The fog of bankruptcy is beginning to clear on San Clemente's Marblehead, one of the last pieces of land open for development on OC's coast.
Those developments also hold the potential to set the scene for next year, removing pieces of uncertainty that come when businesses face the hangover of a steep recession.
There's no guarantee that this year's moves will pan out as next year's progress. Factors beyond the control of any business will have much to say about the global, national and local economies.
The potential is clear, as the Year in Review that begins at the top of this page will show.
We've checked up on executives and companies we designated as key difference-makers last year, with an accounting of how our outlook fared over the past year.
We've also listed five major stories for various industries over the past year. The write-ups and listings point to the potential of 2012.
We'll check in again next year to see how we—and everyone else—did.