INNOVATION: GROUP PARTNERS WITH FIVEPOINT
OCTANe Sees Next Gen Growth in Irvine
Monday, September 23, 2019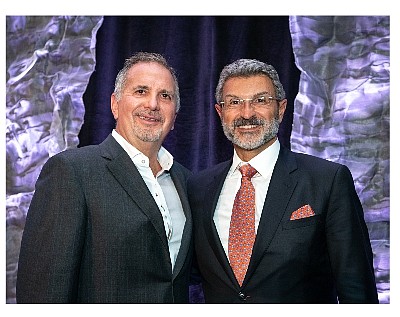 OCTANe, best known for its role as a business accelerator for area technology and life science companies, is getting a new home and well-backed development partner to help with its stated goal of adding some 55,000 high-paying technology jobs to the region by 2030.
Expect to see Orange County's largest medical and technology accelerator move its headquarters from Aliso Viejo to the FivePoint Gateway in Irvine in the early part of next year, according to Chief Executive Bill Carpou.
What's more, plans for major collaboration between the group and the office development's owner, FivePoint Holdings LLC, are in the works, according to Emile Haddad, chairman and chief executive of the Irvine-based master developer (NYSE: FPH).
"We are going to have a [sizeable] partnership with OCTANe," Haddad said on Sept. 12, speaking to an audience of several hundred attendees at OCTANe's High Tech Awards, at Balboa Bay Resort in Newport Beach.
It's more than just an office shuffle, Carpou said.
"This is not a relocation of OCTANe as much as it is the beginning of a center of gravity for OC that will encompass the [area's] great attributes beyond just innovation," he said.
The group had already announced plans to move a portion of its operations from Aliso Viejo to Irvine; that deal was disclosed near the start of the year.
City of Hope Connection
The goal of the latest partnership is to foster a community of forward-looking businesses and industries that will bring a variety of innovations—and, hopefully, thousands of jobs—to the area, similar in respect to markets like Silicon Valley and Austin, Carpou said.
It's the second notable tenant in recent months for Haddad and his real estate company's office complex at the Great Park Neighborhoods.
Near the beginning of July, the Irvine-based real estate company teamed up with Duarte's City of Hope, and announced a planned $1 billion investment in a new cancer center and hospital in Irvine.
It's the largest and most ambitious healthcare development proposed for Orange County in over a decade.
OCTANe officials believe its operations and members' businesses will become integrated with the research center, hospital, and cancer hub, which FivePoint and City of Hope intend to have up and running in phases over the next several years.
Haddad previously told the Business Journal that he expects the cancer center to be a galvanizing hub for commercial development at Great Park Neighborhoods, as well as the larger community, with healthcare and medical businesses expected to be at the forefront.
Prev Next