FINANCE: RAISES $50M FOR VENTURE CAPITAL FUND
Roth Scores TD With NFL QB Rodgers
Friday, June 14, 2019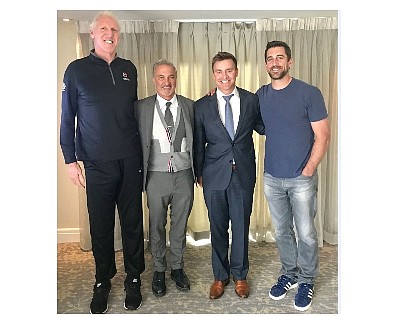 Byron Roth's new venture co-founded with Green Bay Packers superstar quarterback Aaron Rodgers has closed its initial investment fund after raising $50 million.
The investors are "a combination of athletes, influencers and business professionals," Nate Raabe, another co-founder of Rx3 Ventures, told the Business Journal.
Rx3, which is located within Roth Capital's Newport Beach office, attracted investments from celebrities with Orange County ties like NFL quarterbacks Sam Darnold and Mark Sanchez, and auto racer Danica Patrick.
"As professional athletes, we're constantly approached with investment opportunities," Rodgers said in a company statement. "With more and more access to deal flow, it's hard for any athlete or high-profile individual to adequately evaluate each opportunity.
"With Rx3, I saw the opportunity to create an investment platform that brings together a group of like-minded influential investors and their respective networks with the backing of institutional resources," he said.
Roth Capital is the largest investment bank based in Orange County and sponsor of its Roth Conference, an annual Dana Point investment event that attracts nearly 5,000 investors, executives and analysts.
Influencer Network
An investment partner is Alex Bhathal, managing partner and founder of Newport Beach's Raj Capital LLC, the asset management platform of the Bhathal family, and co-owner of Sacramento Basketball Holdings LLC, which owns the Sacramento Kings and DOCO, the entertainment and sports district in downtown Sacramento.
Previously, Bhathal served as chief executive of Raj Swim for 11 years and headed the largest private equity backed buyout in the swimwear industry.
"Rx3 stands out from other consumer funds due to its unique combination of institutional expertise and a powerful influencer network," Bhathal said. "Their access to top-tier deal flow and ability to add value beyond capital positions the fund for success. I'm thrilled to be a part of the Rx3 team as it pioneers a new approach to consumer investing."
Raabe was previously managing director of Roth's private capital group, where he was responsible for deal sourcing, valuation analysis and distribution for private companies.
Raabe has been friends with Rodgers since college when they were both in the Bay Area.
The fund's members started raising money about 10 months ago.
How to Influence
The fund, which is considered growth stage venture capital, is focusing on consumer-facing companies because the celebrities, if they like the products, can use them in public—hence an investment in sunglasses firm Privé Revaux Eyewear.
"A lot of investors end up wearing the sunglasses in their daily lives and that helps move the needle" on sales because photographs of them end up on social media, Raabe said.
Prev Next