Midday Stock Roundup
Wednesday, June 13, 2018
Share this article: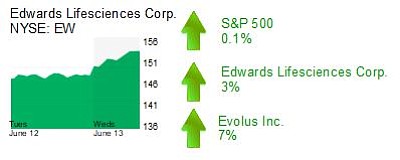 The S&P 500 was up 0.1% in midday trading to 2,788.15.
The Dow Jones Industrial Average was flat at 25,320.00.
The Nasdaq was up 0.4% to 7,733.60.
The yield on a 10-year Treasury bond was flat at 2.96%.
The price of gold was up 0.2% to $1,302.
HEALTHCARE
Edwards Lifesciences Corp. (NYSE: EW) was up 3% to $152.88 and a $32.2 billion market cap. CNBC's Jim Cramer mentioned the heart valve maker yesterday as a buying opportunity.
Evolus Inc. (Nasdaq: EOLS) in Irvine rose 7% to $28.88 and a $683 million market cap. Cantor Fitzgerald kept an "overweight" rating on the aesthetics medicine drug maker and raised its price target to $35, up from $25 when the analyst initiated coverage in March.
REAL ESTATE
Homebuilders and developers were down on expectations the Federal Reserve will raise interest rates today.
Tri Pointe Group (NYSE: TPH) in Irvine was down 5.5% to $17.45 and a $2.7 billion market cap. Five Point Holdings LLC in Aliso Viejo was down 4.2% to $10.90 and a $1.6 billion market cap. William Lyon Homes (NYSE: WLH) in Newport Beach was down 3.9% to $24.66 and a $931 million market cap, and New Home Co. Inc. (NYSE: NWHM) in Aliso Viejo was down 4.6% to $9.98 and a $210 million market cap.
RESTAURANTS
Del Taco Restaurants (Nasdaq: TACO) in Lake Forest was up 1.2% to $13.20 and a $508 million market cap. Wedbush maintained an "outperform" rating on the fast-food chain's shares and raised its price target to $17.
SERVICES
Cryoport Inc. (Nasdaq: CYRX) in Irvine was up 4.9% to $14.38 and a $398 million market cap. The life sciences industry logistics shipper is scheduled to join the Russell 3000 Index and small-cap Russell 2000 Index on June 25.