REAL ESTATE: 5-OFFICE COMPLEX NEXT TO STADIUM
OC Register's HQ in Anaheim Sells for $83.1M
Thursday, December 20, 2018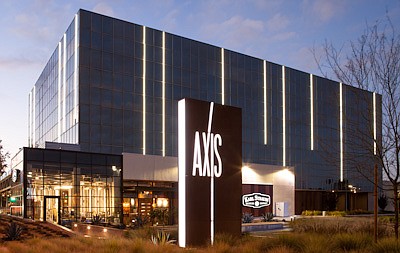 The five-building office campus in Anaheim next to Angel Stadium that holds the headquarters of the Orange County Register and others has sold for $83.1 million.
Irvine-based real estate investor Pendulum Property Partners closed on the purchase of the Axis campus last week. The 301,000-square-foot property is on Orangewood Avenue next to the Santa Ana River.
The office plaza has one five-story office of about 108,000 square feet and four three-story buildings a little less than 50,000 square feet each.
The property, previously called Anaheim Corporate Office Plaza, was renamed Axis as part of a redevelopment over the past three years that saw prior owners Seligman & Associates Inc. of Southfield, Mich., invest more than $15 million to turn the 30-year-old campus into one of North Orange County's largest creative-office projects.
The redevelopment came with a leasing push that increased occupancy rates from about 50% in late 2014 to more than 80%. The Register moved its operations to the park last year, three years after its former parent company, Freedom Communications, sold its longtime home in Santa Ana.
It leases about 40,000 square feet there, according to prior Business Journal reports.
The newspaper is among the largest tenants at Axis, along with building technologies provider Climatec LLC and Agilon Health.
Goldman Sachs JV
Pendulum paid about $276 per square foot for the campus in a venture with the private real estate investment group of financial giant Goldman Sachs.
It's the first venture between the two firms, according to Kevin Hayes, managing partner for Pendulum, which was formed two and a half years ago.
The new owners plan to invest another $5 million or so in the property, with the building at 2390 E. Orangewood that holds a Karl Strauss Brewing Co. among the areas slated for additional upgrades.
The recent work has "turned a Class C property into one that competes with Class A [properties] for tenants," Hayes said.
The Axis deal caps a busy month for Hayes and Pendulum, with some $377 million of deals announced.
Two weeks ago the Business Journal was first to report on the company's $124 million buy of One Pacific Plaza, a three-building campus that's the largest office complex in Huntington Beach. It made the deal in a venture with Los Angeles-based Ares Management Corp.
Around that time, Pendulum also closed on a nearly $170 million buy of part of San Diego's Liberty Station mixed-use campus.
Prev Next