The Venture Banker
AFTER 26 YEARS, BYRON ROTH KEEPS ADAPTING, EMBRACING RISK
Monday, April 23, 2018
Share this article: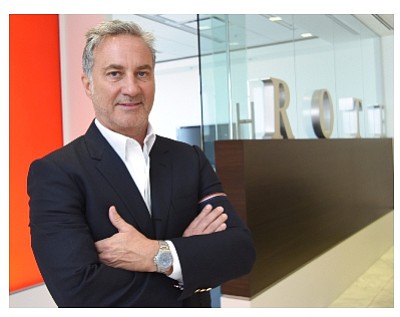 Byron Roth has a feeling that his company's dealmaking on Wall Street is about to take off.
"I like raising capital for companies," said the chairman and chief executive of Newport Beach-based Roth Capital Partners LLC. "There is nothing better."
During a meeting at his office on April 18, he periodically slipped out to take phone calls or short meetings. Within 24 hours, the company announced:
• Roth was the sole manager of a $20 million offering for Aspen Group (Nasdaq: ASPU), a for-profit post-secondary education company in New York with the accredited Aspen University and United States University, which aim to provide affordable college education.
• Torchlight Energy Resources Inc. (Nasdaq: TRCH) in Plano, Texas, which announced a $5.75 million offering for which Roth Capital acted as sole manager.
• Helios and Matheson Analytics Inc. (Nasdaq: HMNY), a New York firm that owns the MoviePass subscription service, is offering $30 million, Roth Capital acting as a co-manager, along with Maxim Group.
Roth said his company is constantly trying "to figure out which niche to play in."
Right now, it's the initial public offering market that has him grinning. He's working on an IPO that he said couldn't be publicly identified when this story went to press because it hadn't yet filed certain paperwork.
"There's no more adrenalin for a firm like ours than doing an IPO and being the one who prices it," he said.
Small Companies
Roth Capital is a well-known investment banker on Wall Street, having raised almost $50 billion for firms valued from $50 million to $250 million, a sector often ignored by bigger banks.
It's helped well-known firms, such as the 1994 IPO of Amerco (Nasdaq: UHAL), parent of U-haul, and a $70 million capital raise in 2009 for Imax Corp. (NYSE: IMAX). Among recent home runs were NV5 Global Inc., (Nasdaq: NVEE), which went public in 2013 at $6 and traded near $63 last week, and ShotSpotter Inc. (Nasdaq: SSTI), which has almost tripled from $11 in its IPO last May to $31.78 last week.
The investments are often higher risk, which isn't for the faint of heart.
"If someone is looking for something safe, we're not your firm," Roth said.
It has eight offices and is branching out to London, whose foreign investments are booming, Roth said.
It supplies research on 270 companies in sectors such as consumer, energy, healthcare and technology.
The Roth Capital conference at the Ritz Carlton in Dana Point may be the biggest annual economic boom to hotels in South Orange County, attracting almost 5,000 investors, executives and analysts to the three-day event.
Ironically, Roth said his own company would fare poorly on the stock market because he's never sure of revenue, pointing out that its broker-dealer business can range from as low as $50 million to $100 million a year. He said the broker business, like others on Wall Street, is facing tough times due to falling fees.
The company, which is owned by employees, is like a "family-owned firm," he said. It employs 150, including his brothers, Gordon Roth, who's chief financial officer, and Ted Roth, who's president and head of investment banking.
Beginnings
When Byron Roth joined the firm in 1992, it was run by Walter Cruttenden III, who founded it in 1984. A few years later, an acrimonious battle grew, and Cruttenden left to pursue other ventures.
"Walter and I are friends," Roth said. "We've had a few bumps along the way."
Nowadays, Roth joked that he might have left Cruttenden in the company name when he changed it in 2000, except that it was difficult to spell.
He said he's made three excellent investments in Cruttenden-founded companies, including Acorn Advisers LLC. Cruttenden has also spoken at Roth's conferences.
"Byron's done such a terrific job growing Roth, just fulfilling every dream I had and then some," Cruttenden said in an interview.
The keys to Roth's success are his understanding of the capital markets and his ability to listen, be humble and develop relationships, Cruttenden said. When he hired Roth in 1992 as part of a group that bought a stake in the firm, Cruttenden said, "I just knew I wanted to do something with that guy. He just had it, whatever it is."
In the 1990s, Roth's goal was to do for Southern California companies what famous firms like Hambrecht & Quist were doing for Northern California.
He implemented a two-step process allowing companies to raise $10 million to $20 million in an IPO, prove themselves in the public arena, and follow with a bigger offering. Roth was doing about four to eight IPOs a year during the decade.
"From 1993 to 1999, we had a nice run," he recalled.
Then the internet boom crashed and the IPO market fell apart in the 2000s, going from 800 annually in 1997 to under 100 in some years. Roth cited reasons such as regulations like the Sarbanes Oxley Act that ate too much of a company's profits.
He pulled out a chart showing that the more than 8,000 publicly traded companies in the U.S. in the 1990s has fallen in half to about 4,200 now.
Then the 2012 Jobs Act turned the market around by making it easier for smaller companies to raise capital, Roth said. The law trimmed accounting paperwork, permitted private filings to the Securities and Exchange Commission, and allowed companies to talk with investors under nondisclosure agreements before going public.
Most importantly, the process of being in the public's eye went from four to six months to three to four weeks, a "big difference."
For example, Roth said he anticipates the unnamed IPO he's working on to be filed publicly, then "be ringing the bell in three weeks" when it begins trading.
Advice
Companies seeking to raise capital should shoot for 15% to 20% annual revenue growth and differentiate themselves from competitors, Roth said. Institutional investors are most keen to invest in biotech and tech companies, such as artificial intelligence and security, he said.
Regulation A+, which started in 2015, is promoted as an easier alternative for companies to go public. But the regulation has problems that need to be ironed out, such as lack of flexibility in pricing shares, Roth said.
He's optimistic that the Trump administration understands what's needed to help raise capital and hopes regulation will curtail shareholder lawsuits, which hit about 10% of publicly traded companies each year.
The government has "worked on making it easier to become a public company. Now they're trying to make it easier to be a public company."
He's done three IPOs in each of the past two years. This year, he's done one and anticipates a second in a few weeks. While he declined to predict how many IPOs he'll do this year, he said he's confident about one thing.
"I'm back in business doing IPOs."