Business Journal Honors OC Innovators
Tuesday, September 12, 2017
Share this article: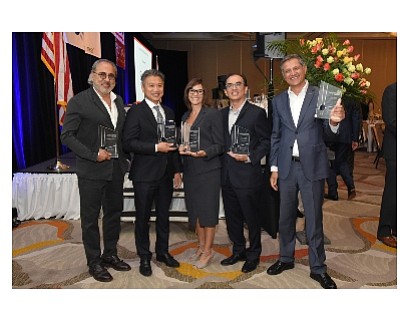 Around 400 people praised creativity at the Business Journal's Third Annual Innovator of the Year Awards luncheon at Hotel Irvine on Tuesday.
Stuart McClure, chief executive and president of Irvine-based Cylance Inc., delivered the keynote address. In his speech he discussed the specific formula for producing innovators: a combination of fixing the core of a problem, passion for what you do, and persistence. Cylance Inc. is a cybersecurity firm that develops software using artificial intelligence and algorithms to predict and prevent malware and other computer threats. He was a 2016 IOTY honoree.
The 2017 honorees are:
• Joe Kiani, Chief Executive and Chairman of the Board, Masimo Corp. in Irvine.
• Shaheen Sadeghi, Founder and CEO of Lab Holdings LLC in Costa Mesa.
• Lori Torres, Founder and CEO of Parcel Pending Inc. in Irvine.
• Phu Hoang, Founder and CEO of Virtium Technology Inc. in Rancho Santa Margarita.
• Andre Vovan, Executive Medical Director of the Acute Care Institute at St. Joseph Hoag Health in Irvine.
The future looks bright for OC Innovators. 12-year-old Carson Kropfl of San Clemente got a shout out from Masimo's Kiani and was the youngest nominee.
The Business Journal reported on Carson and his reshaped skateboard decks in February; he will be on the Oct. 1 season premiere of Shark Tank.
OCBJ will profile the 2017 Innovator of the Year Award winners in the Sept, 25 print edition.