Broadcom Acquisition Closes
Monday, February 1, 2016
Share this article: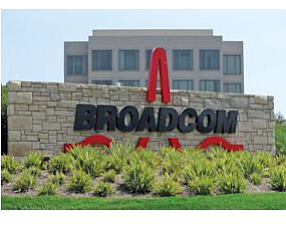 Broadcom Corp.'s $37 billion sale to Avago Technologies Inc. in Singapore closed today, ending the Irvine chipmaker's 20-year history as a locally based company.
The combined entity, known as Broadcom Ltd., is now headquartered in San Jose, where Avago President and Chief Executive Hock Tan spends most of his time.
Broadcom shares, which began trading publicly in April 1998, and shares of Avago, ended trading Friday.
Shares of Broadcom Ltd., traded under the ticker symbol AVGO, are now listed on the NASDAQ Global Select Market. Shares are up 1.9% in early-afternoon trading to a market value of $37.7 billion.
Broadcom is OC's largest chipmaker, with about 2,400 local employees, a number that's expected to decrease in the coming months as redundant positions are eliminated and other cost-cutting measures are made. Broadcom Chief Executive Scott McGregor was scheduled to exit the company after the deal closed and was to receive a $67 million severance package.
The company, launched in 1991 in Henry Nicholas' spare Redondo Beach bedroom with Henry Samueli, is expected to maintain a sizeable presence here. Construction is under way to build a five-building campus next to Orange County Great Park that calls for 1.1 million square feet in its first phase.
The combined company will have revenue of about $15 billion, placing it behind Santa Clara-based Intel Corp. and Qualcomm Corp. in San Diego as the world's largest chipmaker.