Honda Center Takes Food Concession In-House
Thursday, February 21, 2013
Share this article: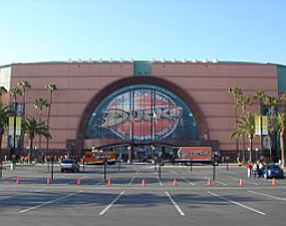 The Honda Center in Anaheim will handle its own food services, replacing Philadelphia-based Aramark Corp., which had operated the concession since the stadium opened in 1993.
"We certainly appreciate the nearly 20 years of partnership with Aramark, but feel as though the time is right to take on greater responsibility for the service our fans, guests and clients receive," Honda Center Chief Executive Tim Ryan wrote in a recent email to trade publication Venues Today.

Aramark's contract ends in July.
The Honda Center is owned by the City of Anaheim and operated by Henry Samueli's Anaheim Arena Management LLC. Samueli is the co-founder and chairman of Irvine-based chipmaker Broadcom Corp., and owner of the Anaheim Ducks professional hockey team, the Honda Center's main tenant.
Several other National Hockey League venues handle food concessions in-house, including Joe Louis Arena in Detroit, Madison Square Garden in New York, and PNC Arena in Raleigh, N.C. The move is typically intended to fold food concessions into overall customer-service operations.
The Honda Center, which seats about 17,000 for hockey and more than 18,000 for events such as basketball games, is now conducting a search for food and beverage director.
The move on food concessions comes as the Honda Center works on a 15,000-square-foot restaurant that will be at suite level and cost $400 a year for memberships.
Samueli is known to want a professional basketball franchise at the Honda Center, and has expressed interest in buying a franchise. The new restaurant and other upgrades at the Honda Center will put it on par with typical National Basketball Association venues.
The Sacramento Kings appeared close to making a move to Anaheim two years ago, but now appear likely to be headed to Seattle. That leaves the Honda Center to wait for another franchise relocation or an expansion by the league.
Aramark remains a concessionaire at the city-owned Anaheim Convention Center, Angel Stadium and the City National Grove music venue.