COURTS: SUSPECT TIED TO 2003 ROBBERIES; "GIVE ME MORE BANDIT"
Bank Thief Arrested in Bren Check Heist
Sunday, September 26, 2010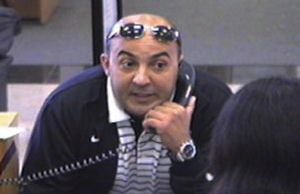 A convicted bank robber has been arrested on suspicion of being behind a bank and identity fraud case involving Donald Bren that made national headlines last month.
The U.S. Attorney's Office in Los Angeles alleges Moundir Kamil, who was dubbed the "Give Me More Bandit" for his part in a series of 2003 bank robberies, stole the identity of Bren as well as a $1.4 million federal tax refund check made out to the billionaire earlier this year.
Bren, owner and chairman of Newport Beach-based Irvine Company, is the county's wealthiest resident at an estimated $12 billion.
Kamil is alleged to have set up a series of bank accounts under Bren's name at the Cerritos branch of Pasadena-based East West Bank, according to a complaint filed in federal court in Los Angeles.
He's charged with depositing Bren's check and withdrawing nearly $1.1 million before authorities learned of the scheme.
Charges
Kamil was arraigned earlier this month in Los Angeles and charged with felony bank fraud. Bail was set at $50,000, according to court records.
The Business Journal broke the story of the crime in early August.
News of the bizarre theft went on to get national exposure as questions arose about how a 40-something suspect—who listed his occupation merely as "smoke shop" operator and looks nothing like the 78-year-old Bren—could make off with the identity and money of OC's most prominent businessman.
The refund check Kamil allegedly stole was the result of overpayment of estimated quarterly taxes by Bren.
When and how the suspect managed to get the check wasn't stated in the initial complaint, nor is it mentioned in the government's updated charges for Kamil, which were filed on Sept. 13.
The U.S. Attorney's Office in Los Angeles could not elaborate on the case.
Officials for Newport Beach-based Irvine Co. also declined to comment.
There's no known connection between Bren and the suspect.
At the time of the complaint, the unknown suspect was referred to as FNU (for first name unknown) and LNU (for last name unknown), "A.K.A. 'Donald Bren.'"
"Mr. Bren was the victim," a representative of the Secret Service's Los Angeles bureau told the Business Journal at the time.
IRS officials and bank fraud investigators also were involved in the case.
While Bren shuns publicity, the media exposure arising from the crime helped authorities in their search for a suspect.
Bank surveillance photos of the suspect first ran in the Business Journal's story.
Prev Next