Midday Stock Roundup
Friday, May 17, 2013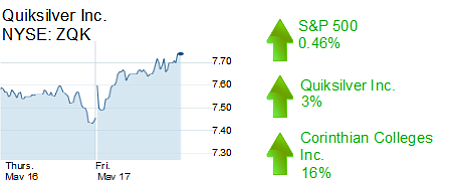 The S&P 500 rose 0.46% to 1,657.98 in afternoon trading Friday.
The Dow Jones industrial average was up 0.35%, while the Nasdaq was up 0.47% to 3,481.36.
The yield on a 10-year Treasury bond rose 4.13% to 1.94%.
The price of gold fell 1.66% to $1,363.90 per ounce.
APPAREL
Huntington Beach-based Quiksilver Inc. rose about 3% to $7.66, a day after the company outlined details of what it's calling an "improvement plan" that focuses on growing its core brands Quiksilver, Roxy and DC and increasing operational efficiencies. Quiksilver had a market value of about $1.28 billion
EDUCATION
Santa Ana-based for-profit school operator Corinthian Colleges Inc. was trading more than two times its average daily volume with its stock up about 16% on Friday to $2.80. The company, which had a recent market value of $241.60 million, has steadily made gains this week and is up 27%. The education sector was generally up with Corinthian and Career Education Corp. (up 11% to a market value of $206.50 million) leading.
REAL ESTATE
Irvine homebuilder Standard Pacific Corp.'s shares were up about 3% to $9.52, after CRT Capital Group LLC upgraded the company's stock from "fair value" to "buy." Standard Pacific had a recent market value of $3.3 billion.
HEALTHCARE
Irvine medical device maker Endologix Inc. rose about 4% to $14.62 for a market value of $918.11 million. Medical device companies were generally mixed on Friday.