Midday Stock Roundup
Wednesday, March 27, 2013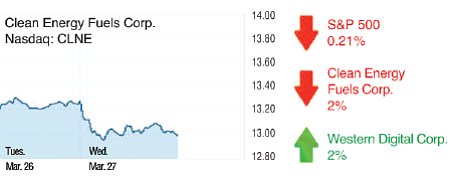 The S&P 500 was down 0.33% to 1,558.55 in afternoon trading Wednesday.
The Dow Jones Industrial Average was off 0.35% to 14,509.15, while the Nasdaq was down 0.24% to 3,244.64.
The yield on a 10-year Treasury bond was down 3.25% to 1.84%.
The price of gold was up 0.58% to $1,604.90 per ounce.
Shares of Seal Beach-based Clean Energy Fuels Corp., which specializes in natural-gas equipment and fueling stations, were down nearly 2% to $13.03 and a market value of about $1.1 billion. Recent reports have cited an abundant supply of natural gas as a factor in low prices that will present a challenge on margins for suppliers.
Shares of Irvine-based disk drive maker Western Digital Corp. continued to rise today, up about 2% to $49.63 and a market value of about $12 billion. RBC Capital Markets initiated coverage with an "outperform" rating and target price of $55.