Midday Stock Roundup
Monday, March 25, 2013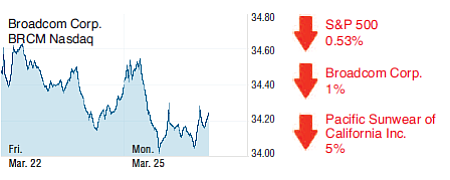 The S&P 500 was down 0.53% to 1,548.59 in afternoon trading Monday.
The Dow Jones Industrial Average was off 0.68% to 14,412.89, while the Nasdaq was down 0.58% to 3,226.15.
The yield on a 10-year Treasury bond was up 0.16%% to 1.92%.
The price of gold was down 0.63% to $1,596.10 per ounce.
The general trend downward came as investors' cheer of a bailout deal for Cyprus was tempered by word that other European countries might restructure their banking sectors.
Shares of Irvine-based chipmaker Broadcom Corp. were down about 1% to $34.70 and a market value of about $19.4 billion.
Shares of Anaheim-based retailer Pacific Sunwear of California Inc. were down about 4% to $2.02 and a market value of about $137 million.