Midday Stock Roundup
Wednesday, March 20, 2013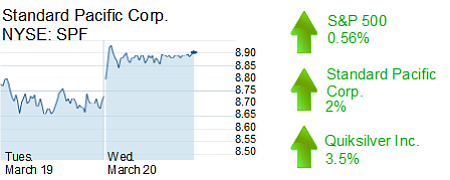 The S&P 500 rose 0.56% to 1,556.99 in midday trading Wednesday.
The Dow Jones Industrial Average was up 0.38% to 14,510.82, while the Nasdaq was up 0.58% to 3,247.93.
The yield on a 10-year treasury bond rose 1.52% to 1.94%.
The price of gold was off 0.30% to $1,606.50 per ounce.
Shares of Irvine-based Standard Pacific Corp. rose about 2% to $8.89 for a market value of $3.08 billion. Homebuilders were generally up in afternoon trading Wednesday after Miami-based homebuilder Lennar Corp. reporter better-than-expected first-quarter results.
Irvine heart valve maker Edwards Lifesciences Corp. rose about 3% to $80.95, after closing down about 3% on Tuesday. Edwards had a market value of $9.24 billion.
Huntington Beach-based action sports apparel clothing and accessories maker Quiksilver Inc. was up about 3.5% to $6.68, a day after the company held its annual shareholders meeting and announced the issuance of common stock for its performance incentive plan. Quiksilver had a recent market value of $1.12 billion.