Midday Stock Roundup
Thursday, March 14, 2013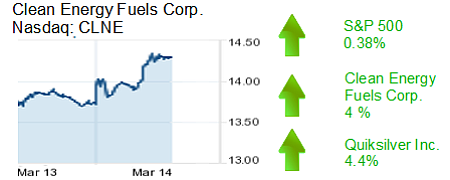 The S&P 500 was up 0.38% to 1,560.50 in afternoon trading Thursday.
The Dow Jones Industrial Average rose 0.40% to 14,513.72, while the Nasdaq was up 0.30% to 3,254.98.
The yield on a 10-year treasury bond was up 1.63% to 2.05
The price of gold was off 0.14% to $1,586.20 per ounce.
Shares of Seal Beach-based Clean Energy Fuels Corp. were up 3.99% to $14.27 and a market value of $1.27 billion. The company is developing a network of natural gas fueling stations along several main transportation corridors, and was listed along with Royal Dutch Shell as part of a "small but formidable group of players" in the sector in a report by Reuters on a China-based competitor that plans to enter the U.S. market.
Huntington Beach-based Quiksilver Inc. continued upward, with a 4.4% increase to $6.59 for a market value of $1.09 billion. The company's shares dipped 2% last week after it reported disappointing first-quarter results. They're risen steadily this week, and are up about 40% so far this year.
Anaheim-based retailer Pacific Sunwear of California Inc. saw shares up 5.5% to $2.51 and a market value of $169.9 million. Retailers were generally up on news of a 1.1% increase in sales for February after a 0.2% gain in January.