Nasdaq Delists Powerwave
Wednesday, January 30, 2013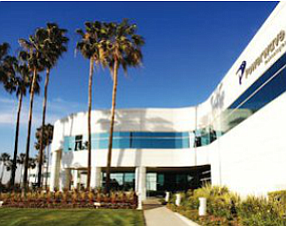 Santa Ana-based Powerwave Technologies Inc. has been delisted from the Nasdaq and now is trading on the over-the-counter stock market.
Powerwave designs and manufactures antennas, filters and other equipment for cell phone towers.
Its share price dipped 11% in early Wednesday trading to a market value of $1.69 million.
The latest development comes in the wake of the company's Chapter 11 bankruptcy filing on Monday, which set off a string of defaults involving leases, debt and credit lines.
The defaults, which were disclosed in a recent regulatory filing, include loans from Deutsche Bank Trust Company Americas in excess of $250 million.
The company also disclosed that its outstanding $35 million credit line from P-Wave Holdings LLC, an affiliate of Los Angeles-based private equity firm Gores Group, also is in default.
Powerwave has been trying to conserve capital, an effort that included a $49 million sale and lease-back of its Santa Ana headquarters last fall. It also sold off its assets and inventory at its former facility in Suzhou, China, in a $12.5 million deal with Shenzhen Tatfook Technology Co.
It appears both of those deals now also are in jeopardy due to the bankruptcy filing, according to documents filed with the Securities and Exchange Commission.
Powerwave in the SEC filing also disclosed that it terminated a supply agreement with Tatfook that was part of the asset sale.
It said it severed its three-year contract with Tatfook after the company imposed a credit line "contrary to the terms of the supply agreement."
The company also said that it's in default on the least at its headquarters.
Powerwave's bankruptcy had long been expected amid mounting financial problems since at least October 2011, when it reported third quarter sales plummeted 51% from a year earlier to $77.1 million.
Since then the company has been hampered by continued declining sales linked to a significant slowdown in equipment spending by Dallas-based AT&T Inc. and other North American network operators.