Chapman Law Gets Hands On Entertainment Law With Clinic
Students Work Pro-Bono, Get Experience on Low-Budget Films
Saturday, January 19, 2013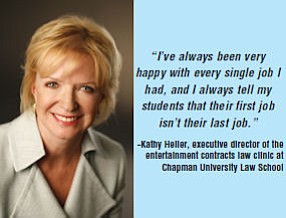 Chapman's entertainment law clinic has provided free production legal services to filmmakers who have won numerous awards and honors over the past three years, including: the Newport Beach Film Festival Audience Award for Best U.S. Film; the Netflix Find Your Voice Film Competition; the Tribeca Film Festival Official Selection; and the AFI Film Festival Official Breakthrough Selection, among others.
"The experience is real as it gets," Gibson said. "We worked with several films over the course of the semester. From start to finish, we had direct contact with the filmmakers under Heller's supervision."
Michael Karlin, who is now an associate with Tustin-based boutique Karlin Law Firm, also graduated from Chapman Law in 2010. He spent two semesters in the entertainment law clinic, and provided legal assistance for several independent films, including the coming-of-age drama Almost Kings, winner of the Netflix Find Your Voice film competition.
"I thought it was a great school, and their entertainment program really prepared me for what I'm doing in my practice," he said. "Having practical experience, as opposed to just sitting in a classroom, made a huge difference."
Karlin's participation in the clinic gave him work experience that other recent graduates may not get while still in law school, he said.
"It's very intensive, but it has a big payoff," said Heller, who added that one of the key reasons for the program's focus on hands-on experience is the fact that she began teaching late in her career.
"We're dedicated teachers, but we bring some practical experience to the table," she said.
Heller's Resume
Heller began her career in entertainment law as assistant general counsel at the London-based United International Pictures, the foreign distribution company for MGM, United Artists, Paramount Pictures and Universal Studios. Her work for United International included copyright, corporate and employment law, as well as negotiating and drafting motion picture acquisition and distribution agreements.
Heller returned to the U.S. to serve as vice president and special counsel for congressional relations at the Motion Picture Association of America Inc., where she coordinated the formulation of policy and lobbying for the major U.S. motion picture studios.
Heller has been in private practice since 1993, representing corporations that provide products and services related to the entertainment industry, and corporations and individuals engaged in domestic and international media production and distribution.
She became the director of the Media and Public Interest Institute at Chapman University in January 2006, and taught her first classes in entertainment law at Chapman in the fall of 2007.
"Entertainment law has provided me wonderful opportunities," she said. "I've always been very happy with every single job I had, and I always tell my students that their first job isn't their last job."
Iyer is a freelance contributor to the Orange County Business Journal.
Prev Next