REAL ESTATE: WILL GET SIGNS ON METROCENTER, XEROX CENTRE
Stearns Goes for Top Billing on 2 Leases
Sunday, February 17, 2013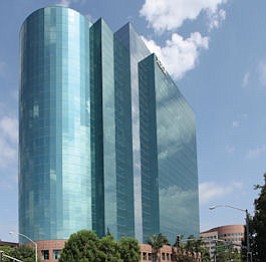 Santa Ana-based Stearns Lending Inc. is expanding into two of Central Orange County's more prominent office buildings, the latest sign of growth for one of the largest privately held mortgage lenders in the U.S.
The company recently inked leases at the MetroCenter at South Coast office complex in Costa Mesa, and the Xerox Centre in Santa Ana.
The new leases combine for 62,517 square feet, according to Jack McNutt, executive managing director for the Newport Beach office of Newmark Grubb Knight Frank. McNutt negotiated both leases on behalf of the company.
Stearns Lending has an estimated 1,400 employees, with about half in OC. The company said it has added more than 500 workers over the past year. It retains its headquarters at 4 Hutton Centre in Santa Ana, which sits along the Costa Mesa (55) Freeway with the company's name atop the building.
The lender will occupy about 100,000 square feet of office space in Orange County once the new leases take effect in a few months. That's about the equivalent of four or five floors of a typical high-rise office.
The two new lease deals also come with top signage for each of the new locations—a key reason the company opted to go with new locations rather than expand in its existing office, McNutt said.
"The economics (of the lease) were good, but it wasn't a purely financial decision," McNutt said. "A big driver was the signage."
Terms of the new leases weren't disclosed.
McNutt said that each deal runs for about three-and-a-half years.
Monthly asking rents at MetroCenter are about $2 per square foot. Xerox Centre's rents run about $1.95 per square foot, according to CoStar Group Inc. data.
The deal at Xerox Centre means Stearns Lending will get its name atop what is arguably Santa Ana's best-known office, a 15-story glass building that sits along the Santa Ana (I-5) Freeway.
The company will be leasing 21,441 square feet at Xerox Centre, and will be getting the "dominant" signage at the building, McNutt said.
Xerox Corp. also occupies space at its namesake building and will keep its name on top of one side of the office, he said. There's no name-change planned for the property.
The larger of the two new leases is at 555 Anton Blvd., one of three offices at the MetroCenter office complex that sits a few blocks from the South Coast Plaza shopping center, next to the San Diego (405) Freeway. Stearns Lending will be taking 41,076 square feet at that building.
Prev Next