LOCAL VETS, EAST COAST BACKER SEE STRONG START ON NYSE
Recovery Finds Buyers With Tri Pointe IPO
Saturday, February 2, 2013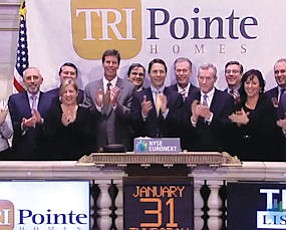 Standard Pacific, the 13th-largest builder in the U.S. in 2011 by sales, reported 983 new home orders in the fourth quarter of 2012, and earned about $378 million in homebuilding revenues during the period. Tri Pointe said it expected to report 75 new home orders for the fourth quarter, with revenues of about $55 million in that period.
Tri Pointe's proceeds from the offering total about $156 million, most of which will be used to buy up land for additional residential developments. At the end of 2012, the company was under contract to buy $147.2 million worth of land, which is expected to hold 775 homes in 10 different communities.
"The neat thing about what we are doing, it is immediately accretive to the value of the company," Bauer told CNBC. "It is not for general working capital purpose but for real assets, and that's really critical for our growth."
Tri Pointe owned or controlled nearly 1,400 home lots across California and Colorado as of the end of September, according to regulatory filings. Local projects it has in the works include sites in Huntington Beach, La Habra and Rancho Mission Viejo.
About $63 million raised from last week's IPO is going to affiliates of Greenwich, Conn.-based private equity firm Starwood Capital Group, which helped jumpstart Tri Pointe's operations with a $150 million investment in 2010.
That investment gave Starwood and its chief executive, Barry Sternlicht, an 83.5% stake in the builder prior to the IPO. It now owns about 45% of the builder's stock—roughly worth $270 million—after selling about 3.7 million of its shares in the IPO. Sternlicht remains Tri Pointe's chairman.
Another Sternlicht venture, called Starwood Land Ventures LLC, owns 9,600 lots in California, Arizona and Colorado. Some of that land could be sold to Tri Pointe going forward, according to the company's registration statement with the Securities and Exchange Commission.
The Tri Pointe IPO is Orange County's first since last May's $124 million offering by Irvine-based action-sports retailer Tilly's Inc.
Shares of Tilly's, which counts a market value of about $410 million, are down about 4% from what they priced at in its IPO.
Prev Next