Mindspeed Plummets on Cut in Revenue Outlook
Thursday, April 4, 2013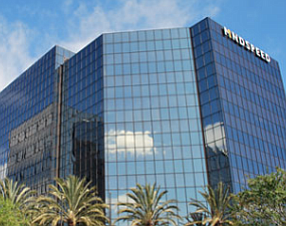 Shares of Mindspeed Technologies Inc. plummeted Wednesday after the Newport Beach-based chipmaker cut its revenue projection for the recently ended quarter.
Mindspeed closed down about 16% on Wednesday to a market value of $106.3 million after the company lowered its estimate for sales in the March quarter to about $35 million, down from previous guidance of between $37.6 million and $39.2 million.
Mindspeed attributed the shortfall primarily to slower-than-expected deployment of 3G small cell base stations, which allow wireless carriers to boost traffic capacity and improve data-transfer rates at office buildings, stadiums and other venues within a smaller, dedicated area.
Mindspeed makes chips for routers, switches and other networking gear.
Its 2012 buy of U.K.-based chipmaker Picochip Ltd. for $51.8 million, which included another $25 million in potential benchmark payments, gained systems-on-a-chip technology geared for small cell base stations, a growth market fueled by a race to 4G supremacy among the nation's largest wireless carriers.
The company said revenue in the current quarter is projected to be flat from the March quarter, missing Wall Street expectations.
Analysts on average forecast sales of $40.2 million in the current quarter.
Mindspeed is scheduled to release its March quarter earnings on April 30.