Group Plans Boycott of Newport Harbor Christmas Boat Parade
Tuesday, November 27, 2012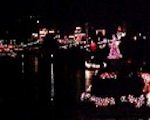 A group opposed to a proposal to raise rents on residential dock space in Newport Harbor said it is prepared to boycott next month's 104th annual Christmas Boat Parade there.
Stop the Dock Tax said it represents 1,200 residential dock owners in Newport Harbor, and has reserved advertising space in newspapers throughout Southern California to publicize the boycott of the event.
The boat parade draws visitors from throughout the region during its annual run, and is set for Dec. 19-23 this year.
The threat of a boycott comes as the Newport Beach City Council considers the increase, with a vote that could come as early as Wednesday night.
The city's proposal would increase the rent for residential docks from a flat $100 annual fee to 52.5 cents per square foot. The change could add anywhere from hundreds to thousands of dollars in annual costs for homeowners with dock space owned by the city.
"The residential docks are attached to the homes that rim Newport Harbor," Stop the Dock Tax said in a press release. "Each year we voluntarily spend thousands of dollars to lavishly decorate our homes and boats in the holiday tradition. It is reported that one million people view the annual Christmas Boat Parade."
Properties on private waterways or county tidelands would be exempt from the increase.
The increases for city-owned docks would be phased in through 2015.
"This is an unnecessary money grab and we can't take it anymore, said Stop the Dock Tax Chairman Bob McCaffrey. "The money we use to decorate our homes will have to be used to pay the new tax."
The proposal to raise rents on residential docks follows a similar move on commercial marinas in Newport Harbor.