AHEAD OF STEEL CITY, MOTOWN ON MIX OF HIGH-TECH MANUFACTURERS
Irvine's Industrious Streak
Saturday, November 24, 2012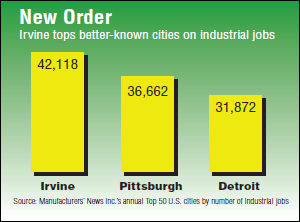 Edwards Lifesciences Corp., manufacturer and marketer of heart valves, counts 2,567 workers at its Irvine headquarters after a near-10% increase over the past year.
Infrastructure—financial, as well as physical—is crucial to Irvine's industrial development.
"What makes OC attractive is a lot of access to capital," Wells Fargo's Vitner said. "You can get access to global distribution. You have everything you need to manufacture in Irvine."
Vital Link
The growth of manufacturing in Irvine points up the challenge of keeping companies stocked with qualified workers, according to Kathy Johnson, chief executive of Costa Mesa-based Vital Link Orange County.
Vital Link is a nonprofit organization that links OC high school students with local companies to explore career options through hands-on experiences and other resources. It organizes tours of engineering companies, such as a day-trip for 300 students from local schools to Irvine-based Aria Group Inc., which specializes in production prototypes for various industries.
"We're also holding an engineering and manufacturing advisory board meeting [in March], where we'll bring in professionals who will review the curriculum that's being taught at high schools and community colleges," Johnson said. "A number of folks from the industry are talking about [the need to fill] mid-level technician positions. Overall, the advances with computer-numerical components and the just-in-time types of delivery have really changed the whole scene of manufacturing."
Manufacturing now involves "a lot of electronic components, very specialized parts that are very expensive," which call for a perception different from the reputation that the industry once had, according to the Society of Manufacturing Engineers' Looman.
The professional organization, which has 50 U.S. chapters, holds annual conferences and trade shows, and publishes research papers and magazines. The group aims to make parents and youngsters aware that a career in manufacturing "doesn't mean they're going to walk into dirty environment, risking health," Looman said.
Prev Next