AHEAD OF STEEL CITY, MOTOWN ON MIX OF HIGH-TECH MANUFACTURERS
Irvine's Industrious Streak
Saturday, November 24, 2012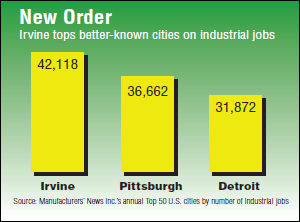 Pittsburgh … Detroit … Irvine.
Doesn't sound right?
Try this: Irvine … Pittsburgh … Detroit.
That might not sound quite right either, but it is how the three cities rank for industrial jobs, with Irvine well ahead of the traditional centers for steel and automobiles in the U.S., according to recent data from Manufacturers' News Inc.
Irvine is home to 42,218 industrial jobs at 388 companies spread over its masterplanned territory, according to the study, released earlier this month. It now ranks No. 28 nationally for industrial jobs, with its total up almost 3% since the beginning of this year, and 11% since 2010.
A keystone to the city's base of industrial jobs is the Irvine Spectrum, a broad swath of land bounded by freeways and filled with spacious office parks and tall glass buildings. The area hosts a mix of manufacturers that run the gamut from aerospace components to heart valves.
"Most people, when they think of manufacturing, they think smokestacks," said Mark Vitner, senior economist at Wells Fargo Bank. "They don't think of a building that looks like a warehouse. If you think about where manufacturing is doing best, it's in areas that don't look like traditional manufacturing regions. They're not by a river or anything like that. Raw materials don't come in by barge. Places like Detroit, Cleveland, or Pittsburgh used to be thought of that way. Now, even those places are more geared toward high-tech."
The biggest centers of industrial jobs are major metropolitan areas that have significant numbers of both traditional and high-tech manufacturers. No. 1 is Houston, with 237,289 industrial jobs, while New York (146,218 jobs), Chicago (106,938), St. Louis (80,964), and Los Angeles (78,358) round out the top five.
Irvine's No. 28 ranking comes despite the city's relatively small population—Los Angeles is about 20 times bigger.
Not everyone is surprised.
"Having been in the manufacturing industry for 27 years, I knew that a lot was going on," said Kathy Looman of the Society of Manufacturing Engineers, who serves as the West Coast regional manager in Newport Beach.
Parker
Parker Aerospace, part of Cleveland, Ohio-based Parker Hannifin Corp., is among the larger industrial employers in Irvine with a work force of 1,735 individuals in Irvine after hiring 100 in the past year. Parker Hannifin makes aircraft parts and had record sales of $13 billion in fiscal 2012, ended in June.
"We've got some of the big companies … in that whole area down Red Hill Avenue surrounding El Toro," Looman said. "Literally hundreds of companies are running 24 hours a day. A lot of it also is medical."
Prev Next