REAL ESTATE: INNOVATIONS INCLUDE SHARED DRIVEWAYS
Irvine Co. to Add Houses to Cypress Village
Saturday, November 24, 2012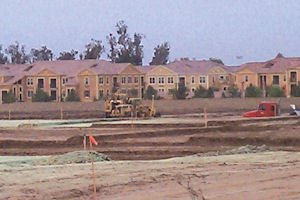 The motorcourt design also has been approved for some of the new homes going up in the latest phase of development at Portola Springs.
"Overall, this development is similar to a typical condominium-style motorcourt development, but it provides homeowners, who want to own their own land, a new alternative within the city," according to Irvine Co. documents filed with the city.
Plans for the initial Cypress Village development also call for 141 three-bedroom condo units of under 2,000 square feet each and 84 single-family homes running up to 2,600 square feet with traditional driveways.
"California Room"
Options for some of the proposed new homes will include a "super California room," an extended outdoor room connected to the house with open walls, and a solid roof.
"California rooms have gained popularity in recent years and have been provided in many of Irvine's neighborhoods," Irvine Co. said in filings with the city. "With this master plan, the applicant wants to provide residents with an option of extending the California room … into the back yard area to create a more unique indoor-outdoor experience."
Also proposed for the homes is a "California garage," featuring a 13.5-foot-by-8-foot room added onto the rear end of the garage.
The California garage can be built according to a variety of owner-specified options, according to Irvine Co. plans, including a separated office, gym, play area, dog wash area, or just additional garage space.
Prev Next