PERSONALITY DIFFERENCES POSITIVE FOR SKEFFINGTONS
Second Generation Paves Way Forward for Ben's Asphalt Inc.
Saturday, November 17, 2012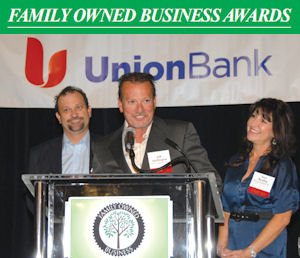 Personality differences are pluses for the Skeffington brothers, who own Ben's Asphalt Inc., a Santa Ana-based provider of asphalt paving, striping, repairs and other maintenance services.
"What makes our business effective is that my brother and I have such different personalities," said John Skeffington, the younger brother and chief financial officer. "My weakness is his strength, and vice versa. We make a good complement to each other. He's more of the visionary, the more creative one. He likes to open up new opportunities. I keep him grounded, so to speak."
The company bears the name of their father, who founded the business in 1961 in Laguna Beach. He came to California from Boston three years earlier, after a tour in the Navy. He worked awhile as a delivery driver for a bakery and then struck out on his own in the asphalt business, initially "just doing residential driveways."
Bill Skeffington, the older brother and chief executive of the company, started working with his father in the early years of the business, riding along in his pickup truck and sweeping driveways. He officially joined the company after graduating from high school in the early 1980s.
Award
Ben's Asphalt steadily grew as it shifted from seeking work from homeowners to catering to "small commercial projects in the local area," such as apartment complexes and shopping center parking lots, according to the younger Skeffington, who came on board after earning his bachelor's degree in business administration in 1992.
Teri Braden, a sister, left the legal field a few years later to work with her family as vice president of human resources.
The company now has about 150 employees total, with about 120 in Orange County and the rest in Riverside County. Its annual revenue reaches about $30 million.
Ben's Asphalt was honored in the medium-size company category at the 13th annual Family Owned Business Awards presented by the Business Journal and California State University's Center for Family Business on Nov. 7 at the Hyatt Regency Irvine.
"We thought it was fitting that we'd receive this award on the 10th anniversary of our dad's passing today," said John Skeffington, who accepted the award.
Business for Ben's Asphalt has mirrored economic cycles over the past 51 years. The most recent recession has left the company's business makeup 80% maintenance and 20% new construction. The ratio had been roughly flipped—with double the revenue—prior to the recent recession.
Prev Next