YEAR'S RICHEST DEAL PRICED AT $487,000 PER APARTMENT
Essex Buys 50% Stake in Skyline Towers for $85M
Saturday, May 19, 2012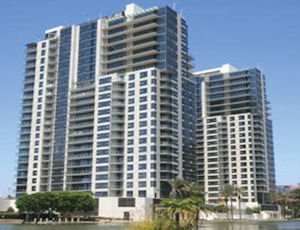 Skyline at MacArthur Place, the upscale, two-tower apartment complex in Santa Ana that has served as Orange County's tallest residential project since its 2008 construction, has seen a tweak in its ownership structure.
Essex Property Trust Inc., a Palo Alto-based apartment owner and developer, disclosed earlier this month that it had bought out a partner's roughly 50% stake in Skyline, a 349-unit complex that it first acquired in a March 2010 joint venture.
Essex reported paying $85 million for the partner's stake in the development, giving the company full ownership of Skyline, which is located in the South Coast Metro area near the campus of Santa Ana title insurance company First American Financial Corp.
The deal, completed in April, is the priciest apartment-related transaction seen in OC so far this year.
The latest investment by Essex values Skyline—which has a pair of 25-story towers—at about $170 million. That breaks down to nearly $487,000 per apartment for the complex, which sits along the Costa Mesa (55) Freeway in Santa Ana.
Essex and its partner paid about $128 million, or nearly $367,000 per unit, for the then-financially troubled complex in early 2010, and converted the new development from a for-sale residential project to apartments.
The buildings, which now are about 90% leased, earned a little under $1.7 million in rents during the first quarter, according to regulatory filings.
The selling partner's name in last month's transaction was not disclosed, and specifics about Essex's partner in the venture have been in short supply since the 2010 transaction.
Brokerage data suggest Essex's former co-owner in the Skyline project was at one point an affiliate of New York-based iStar Financial Inc., which had financed a good portion of the 513,000-square-foot project's initial development, but regulatory filings don't confirm whether iStar has been recently involved in the project.
Essex's additional investment in Skyline doesn't mean the company—which owns 15 apartment complexes in OC, totaling 2,751 units—plans to keep the project as apartments indefinitely.
"Our expectation and our belief is that the highest and best use for that asset is a condo," Essex President and Chief Executive Mike Schall said in a call this month with analysts.
"It has Viking appliances. It has super-high finishes. A number of us would like to bid on the snake-skin couch that is down in the wine locker area," Schall said. "So we know that its highest and best use is a condo. We look for a condo exit, but in a market [where] rents have not moved very much, we thought it was still a decent apartment addition in the interim."
Prev Next