Next for Irvine Company: 19-Story Office Next to HQ
Saturday, August 25, 2012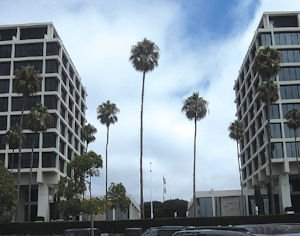 "They have a built-in tenant that can fill the building until there's a more robust market," said Parker, whose company represents several larger clients based in Newport Center. "It mitigates any risk—it's a smart call."
There hasn't been a sizable office in Orange County to break ground on a speculative basis in nearly five years.
Irvine Co. has other speculative office projects on the books in other markets where it operates. Those include an office campus called Santa Clara Gateway that's seeing its first phase of construction, totaling about 447,000 square feet, under way in the Silicon Valley.
Pei Cobb
The 520 Newport Center Drive building will go up on land that now holds a surface parking lot, in between a pair of nine-story offices at 500 and 550 Newport Center Drive. The cost of the project is unknown.
Some ground-level space at the two existing offices could be altered to make way for the new building, which has been designed by Pei Cobb Freed & Partners Architects LLP of New York.
Pei Cobb Freed also is handling design for the new Pimco headquarters building, which Irvine Co. owns and is developing for Pimco—the world's largest bond investor and part of Allianz SE in Germany.
City filings also show plans for a new, multilevel parking structure to be built to accommodate the new 520 Newport Center Drive office and the two nine-story buildings on the block.
Decades-Old Plan
Plans for a taller office building at the site of the planned new construction have been envisioned since the 1960s, according to Irvine Co. officials.
The new high-rise first was contemplated in early planning renderings by architect William Pereira, who worked on the 1960s master plan for the Irvine Ranch and also established the architectural style for Newport Center.
Meantime, the latest plans arise during a busy period of construction for the area around Fashion Island—much of it led by Irvine Co. The company has put close to $100 million into upgrading its Fashion Island shopping center during the past couple years, including adding a new movie theater complex, retail stores and restaurants, and a Whole Foods Market that's expected to open in about a month.
Also in Newport Center, a new city hall for Newport Beach is expected to be soon completed, along with an expansion to the city's central library and a 16-acre park.
Irvine Co. also is considering turning San Joaquin Plaza—an older, low-rise office complex it owns near the intersection of San Joaquin Hills and Jamboree roads—into an apartment complex in a few years.
Prev Next