Next for Irvine Company: 19-Story Office Next to HQ
Saturday, August 25, 2012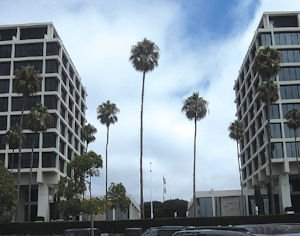 Irvine Company plans to build a 19-story office building next to its existing Newport Center headquarters beginning early next year.
The office, located at 520 Newport Center Drive, is slated to total about 300,000 square feet. Construction should be completed in 2014, according to the Newport Beach-based real estate investor and developer.
The building will go up about two blocks from the 20-story office that is now being built for investment manager Pacific Investment Management Co. at Newport Center, the high-end office market that surrounds the Fashion Island shopping center. The two buildings will be the most prominent offices to go up in Newport Beach in nearly 30 years.
Irvine Co. is still evaluating leasing plans for the 520 Newport Center Drive office. The company—Orange County's dominant real estate company and landlord—is considering moving part of its own operations into the new building, according to Donald Bren, Irvine Co.'s chairman.
"Similar to Pimco, which is expanding their [local] presence with the building of their new headquarters at 650 Newport Center Drive, our long-term desire is to maintain our corporate headquarters and operations here in Newport Center," Bren said.
Irvine Co.'s corporate operations are now spread between Newport Center and University Research Park in Irvine, where the privately held company's retail, office and apartment divisions moved in 2004.
The company said it plans to evaluate its space efficiencies as it proceeds with plans for 520 Newport Center Drive.
If Irvine Co. opts to lease out space at the new building to other tenants, it will likely try to do so at a rental rate among the highest of any building in OC.
Newport Center Drive
Newport Center Drive ranks as the ninth most-expensive street for office tenants in the U.S., according to a report last year from Chicago-based brokerage Jones Lang LaSalle.
Irvine Co.'s website lists monthly rents at other buildings it owns in the area as high as $5.25 per square foot. Newport Center Drive offices average monthly rents of about $4 per square foot, according to Jones Lang LaSalle.
In theory the addition of the 520 Newport Center building, combined with existing space that Pimco vacates as it moves to its new headquarters in 2014, could provide some softness to the upscale Newport Center office market in a couple years.
That's why it makes sense for Irvine Co. to at least temporarily consider moving operations it has at University Research Park—where there's little vacant space—to the new office, said Randall Parker, president of Travers Realty Corp., a tenant brokerage that has local offices in Newport Beach.
Prev Next