REAL ESTATE: COLLEGE OPERATOR INKS DEAL FOR 164,000 SQUARE FEET
Corinthian Renews Griffin Towers Lease
Saturday, August 18, 2012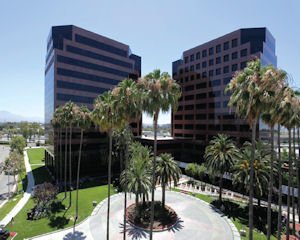 Corinthian Colleges Inc. has inked a new lease for its Santa Ana headquarters, in one of the larger office deals Orange County has seen this year.
The for-profit college operator signed a 163,734-square-foot lease at Griffin Towers, a two-building office complex just off the Costa Mesa (55) Freeway.
Corinthian Colleges has been based in Griffin Towers for over a decade, but was said to be eyeing other locations in the area for a potential relocation.
Terms of the lease were not immediately disclosed. The new deal appears to be a slight reduction in space for Corinthian Colleges, which employs about 800 people in OC.
Corinthian Colleges, which operates close to 120 campuses across the country and in Canada, had been occupying about 200,200 square feet in Santa Ana for its campus support center, according to the company's last annual report.
The company occupies space in both 14-story buildings at Griffin Towers, located at 5 and 6 Hutton Centre Drive.
The offices are located in the South Coast Metro area, which runs approximately between John Wayne Airport and South Coast Plaza.
The two buildings, which total about 550,000 square feet, are run by Dallas-based landlord Lincoln Property Co., which bought the complex in 2010 in a deal with New York-based private equity firm Angelo Gordon & Co.
Corintian Colleges Inc.
• Headquarters: Santa Ana
• Business: for-profit college operator
• Founded: 1995
• Ticker symbol: COCO (Nasdaq)
• Fiscal 2011 revenue: $1.87 billion
• Recent earnings: $4.1 million for fiscal third quarter
• Market value: about $199.3 million
• Notable: operates close to 120 campuses in the U.S. and Canada
"After a comprehensive market analysis, Corinthian Colleges decided that remaining in its existing space was the best long-term solution for the company," said Ronda Clark, an executive vice president with the Irvine office of Jones Lang LaSalle, who represented the tenant in the lease along with colleagues Ryan Hawkins and Joe Bevan.
Lincoln Property was represented in-house by Kevin Hayes Jr.
Clark said the new lease contains "favorable terms" for Corinthian Colleges, including a reduction in rent, early termination and expansion options, a tenant improvement allowance to enhance existing space and parking abatement.
Cost Cuts
Reining in expenses has been a priority of late for Corinthian Colleges, which counts close to 100,000 students at its campuses. It offers degrees in healthcare, information technology and other areas.
In its third-quarter earnings report, announced in May, an executive said the company had cut operating expenses by about $150 million over the past year-and-a-half, in part by selling off nearly a dozen campuses in the U.S. and Canada.
Corinthian Colleges' fourth-quarter earnings are due out this week. Analysts expect the company to report a little more than $400 million in revenue for the quarter, down about 5% from year-ago levels.
Quarterly profit is projected to be in the $8 to $10 million range, according to analyst estimates.
Corinthian counts a market value of about $185 million.
The company's market value reached $1.6 billion a few years ago, before increased scrutiny over student loans at for-profit school operators led to stricter federal lending standards that pinched enrollments.
The lease renewal for Corinthian could have an impact on the ownership of Griffin Towers, which Lincoln Property and Angelo Gordon paid about $90 million for in March 2010.
The complex was put back on the market last year. No deal was struck, and the property isn't up for sale right now.
The uncertainty over Corinthian's status as a long-term tenant was believed to be one factor holding up a potential sale.