REAL ESTATE: $8.5 MILLION FOR 3.8 ACRES; MORE APARTMENTS LIKELY
Sale Resets Market in Platinum Triangle
Sunday, May 22, 2011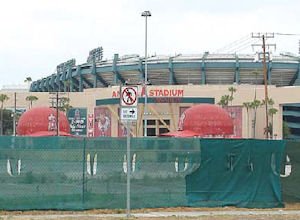 Denver-based UDR Inc. bought the nearby 1818 Platinum Triangle complex in Anaheim for $70 million.
The resurgent market could entice more apartment developers to break ground throughout the county.
"It seems like the strong market (for apartments) is going to continue for a while," Giglio said.
Whether a development push might show staying power in the Platinum Triangle remains to be seen.
Orangewood Project Owner is run by executives with Integral Communities Inc., a Newport Beach developer that's worked to entitle at least two other Platinum Triangle projects.
Officials for the developer, whose executives previously ran homebuilder Western Pacific Housing, could not be reached for comment.
Brokers with the Irvine office of Land Advisors Organization, a land brokerage that represented the buyer and seller in the deal, also declined to comment on specifics of the sale.
Among local projects, Integral has worked to entitle a site along MacArthur Boulevard in Santa Ana, where Newport Beach-based Lyon Apartments is planning a 300-unit complex.
Integral paid a reported $28.1 million for a 577-acre project in the Sacramento area earlier this year. More than 3,400 homes have been proposed for the site.
New Benchmark?
The Orangewood deal could help set the bar on future land sales in the Platinum Triangle, according to brokers with Land Advisors. A lack of sales in recent years made it difficult to figure land values.
At least two additional sites zoned for housing in the Platinum Triangle are said to be in some stage of going back to lenders and could come on the market later this year.
The recently sold Orangewood site is next to one of two large land parcels owned by Miami-based Lennar Corp., which has major operations in Aliso Viejo and has the largest plans of any developer for the Platinum Triangle.
Lennar and several partners initially invested about $270 million assembling land and doing early work on a project dubbed A-Town.
Lennar initially envisioned some 3,500 condos, including several high-rises, and nearly 230,000 square feet of retail development.
Lennar's been quiet on when it hopes to resume development or if the project will be scaled down or sold. The project is not believed to be financially distressed.
Prev Next