STARFISH TO LAGUNA; CHANGES AT TALÉO; KATSUYA COMING
De Palma to French 75; Secret Plan for Deli at Mark's
Sunday, June 5, 2011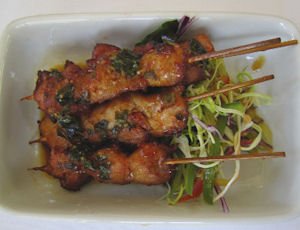 This is the sixth collaboration between Sam Nazarian (founder and chief executive of lifestyle company sbe), world-renowned designer Philippe Stark and master sushi chef Katsuya Uechi.
Promised: "A blend of award-winning cuisine with an enlivening, design-driven aesthetic and welcoming atmosphere."
There have been whispers about tons of money going toward making it a showpiece in OC.
Other Katsuyas are acclaimed as uniquely chic experiences, so I'll be at the new one here as soon as possible. Curiosity wins.
Anaheim Addition
This fall, The Ranch Restaurant & Saloon will give Anaheim another dining and entertainment dimension.
This is the brainchild of Andrew Edwards, founder and owner of Extron Electronics, a leading manufacturer of professional audio visual system integration products. Edwards is building his corporate headquarters at 1025 E. Ball Road in Anaheim and the restaurant will occupy the ground floor.
The well-known name associated with this new venture is Michael Jordan, former wine director for Walt Disney Parks and Resorts Worldwide. Jordan's served as general manager of Napa Rose restaurant in Disney's Grand Californian hotel and has been a restaurateur in OC for many years.
He is one of the few worldwide to gain a Master Sommelier certificate.


First info is that The Ranch will serve true American regional cuisine—cooking from scratch with the finest ingredients to capture the rustic style of wine country and the freshest flavors of the farm. California's great ranches, farms, dairies and food and wine artisans will be honored.
The restaurant's wine program will feature an extensive cellar with a world-class selection.
Food and wine will be served in a friendly and unintimidating style. Live local and country music by celebrities, with dancing, also is on the agenda.

Hello Nello
We'd been anxious to get back to Nello Cucina at South Coast Plaza since Franco Vessia became the managing partner. He'd pleased us for many years with his Vessia restaurant in Irvine before closing it in 2009. We have now worked through some of the menu, finding a balance of very good tastes and quite attractive presentations.
When you are looking for soulful flavors of Italy that are not filtered through yet another pair of California's rose-colored glasses, this is a friendly and inviting spot.
Chef Pino Domicolo has been in charge of the kitchen for a long time and he's a stickler for cooking what he'd make at home for family gatherings.
Vessia polishes up the restaurant's service in a duet of cute dining rooms that draw shoppers along with people like us who have merely come to eat.