OCBJ 2016 CFO of the Year Awards Nomination Form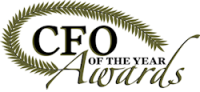 The Orange County Business Journal is currently accepting nominations for the 10th Annual CFO OF THE YEAR AWARDS. This program is designed to recognize senior financial professionals for their outstanding performance as corporate stewards. Candidates must be chief financial officer (or equivalent) of a business headquartered in Orange County, CA. CFO of the Year Awards are presented in the following five categories:

• Public Company • Private Company • Not-for-Profit Organization • Rising Star • Lifetime Achievement

Self-nominations are welcome.
NOMINATION PROCESS
OBTAIN THE NOMINEE'S CONSENT to participate in this awards program.
ALL SECTIONS of the nomination form must be completed for consideration by the Selection Committee (complete online).
UPLOAD a full-color, high-resolution digital head-and-shoulders photo of the nominee
UPLOAD supporting materials (letters of recommendation, copies of news articles, etc.) or email materials to Jayne Kennedy at kennedy@ocbj.com. This is optional.
NOMINATION DEADLINE: 12:00 P.M. (PACIFIC TIME) ON TUESDAY, OCTOBER 18, 2016.
CFO EVENT SUPPLEMENT & AWARDS DINNER:
The Orange County Business Journal will publish a special supplement featuring profiles and photos of all nominees, along with articles of interest from event sponsors and advertisers, in our Jan. 9, 2017, edition.
Winners will be announced at the 10th Annual CFO OF THE YEAR Awards Dinner & Program on Wednesday, January 25, 2017 at the Hotel Irvine.
---
For more information, please contact Jayne Kennedy, Senior Events Manager Email: kennedy@ocbj.com
Phone: 949-833-8373 ext. 209; Fax 949-833-8751