Kim Haman
Columnist
Kim Haman is a columnist. She can be reached at luxury@ocbj.com or philanthropy@ocbj.com.
Recent Stories
Anaheim-based Credit Union of Southern California (CU SoCal) is donating $150,000 to more than 50 Southern California businesses and their employees, as well as two nonprofit organizations as part of its "Merry Givemas" event, held Dec. 18.
Performing Arts School Resumes In-Person Classes, Offers Community Outreach
Artful efforts
HOUSING: Families Forward serves 40,000
Coming home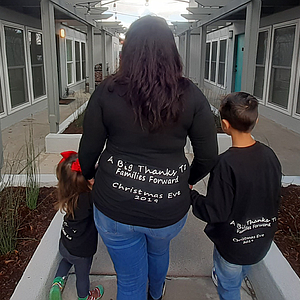 Child Care, Distance Learning for Employers
As school resumes, the majority of Orange County's children will be starting via a distance and/or hybrid learning program.
Homeless-Focused Groups Continue to Serve
COVID-19 has caused turmoil in virtually every aspect of society and brought to the forefront the social imbalances that nonprofits have been fighting for years. As the corona-virus crisis stretches into its sixth month, Orange County nonprofits and the people they serve are in the battle of their lives, as hunger and the risk of homelessness grow to levels never seen before.
Produce Collaboration Raises Funds, Combats Food Insecurity
You open the box and the first thing you notice is the range of colors before you—rich greens, bright yellow, cheerful orange, deep purple, all interspersed with specs of soft white.
Anaheim Arts Spot Launches New Campaign
Last year, the Chance Theater in Anaheim hosted a production of the award-winning musical Ragtime.
Pacific Symphony presented "A Night in New Orleans" on March 7 at Hotel Irvine. The gala honored Carl St. Clair's 30 seasons as a music director and celebrated the Hal and Jeanette Segerstrom family for its extensive support of Pacific Symphony.
The seventh annual Illumination Foundation OC Chef's Table took place on Sunday, March 1, in a setting that could only be described as magical—the Disneyland Resort.
In 2019, City National Bank contributed monetary and in-kind support of over $1.7 million to nearly 70 nonprofits, schools and community organizations, which was a 67% year-over-year increase.