Kim Haman
Columnist
Kim Haman is a columnist. She can be reached at luxury@ocbj.com or philanthropy@ocbj.com.
Recent Stories
Tilly's Life Center held its fourth annual I Am Giving Gala at the Yost Theater in Santa Ana. The event benefitted the center's social and emotional learning program.
City National Bank was the Corporate Legacy Harvest sponsor of the Harvesters 26th Annual Fashion Show & Luncheon on Oct. 3.
Segerstrom, PacLife, Others Take Lead On a Crisis 'Not Talked About'
"If only he had told me he was in pain … if only she had told me she was struggling … if only I had known … if only." The words are heart-rending.
Giving in Great Depression Became Part of Its Culture
Sometimes when you're at the beginning of starting something—taking on a new project at work, for example, or building a brand from scratch—it can be hard to see the long-term impact it may have.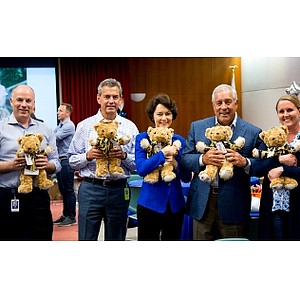 Philanthropic Work Goes Beyond Just Pro-Bono
O'Melveny & Myers LLP might seem at first blush like a law firm a Netflix show could be centered on, with plotlines of interoffice dealings and palace intrigue. It's in one of the best spots in Orange County—a Newport Beach tower next to the Fashion Island mall granting views of the ocean—and is filled with dynamic people whose energy is palpable the minute a visitor arrives.
Firm Treats Recipients Of Its Aid Like Clients
Helping solve the world's complex challenges is at the heart of Ernst & Young LLP's approach to corporate responsibility.
Encourages Employees To Take the Lead on Projects
Bank of America's Orange County community outreach efforts are so vast that it's hard to encapsulate them in a concise way. You'll find it simultaneously delivering financial education to military veterans while also committing billions to help accelerate the transition to a low-carbon economy and making sure people with disabilities have access to advocacy, employment and support.
Efforts Help Many Causes Achieve Max Optimization
In 2014, the Boys & Girls Club of Central Orange Coast created pilot program College Bound to introduce club members to the idea of attending college. Many came from families whose idea of a college education was a dream rather than a given. They were smart, though, hard-working and capable. With the right support, including one-on-one case management, there might be no stopping them.
KPMG Programs Seek To Boost Youth, Their Places
Poet Maya Angelou wrote that, "When people show you who they are, believe them." What better way to show the world who you are than through action?
B Corp Lender Must Give Back to Maintain Its Cert.
In essay "In the 'People Business': A Call for Interdependence" Clearinghouse CDFI President and Chief Executive Doug Bystry wrote as his final point, "What we build in our minds is just as important as what we build with our hands."