Midday Stock Roundup
Thursday, September 30, 2021
Share this article: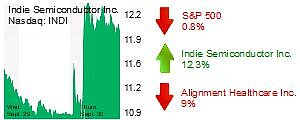 The S&P 500 dipped 0.8% to 4,322.70 during midday trading.
The Dow Jones Industrial Average dropped 1.2% to 33,971.60.
The Nasdaq decreased 0.3% to 14,472.60.
The yield on a 10-year Treasury bond declined 1.7% to 1.515%
The price of gold increased 2% to $1,758.80 an ounce.
The price of oil climbed 1% to $75.56 a barrel.
TECHNOLOGY
Aliso Viejo auto tech maker Indie Semiconductor Inc. (Nasdaq: INDI) surged 12.3% to $12.24 per share for a market cap of $1.6 billion. The volume of 4.4 million shares was four times the daily average.
HEALTHCARE
Alignment Healthcare Inc. (Nasdaq: ALHC), an Orange-based provider of Medicare Advantage insurance plans, sank 9% to $15.10 per share for a market cap of $2.8 billion. Volume of 565,585 was twice the daily average. The shares have fallen about 46% since June.