Felgner's Lifetime of Vaccine Work Put to Rapid Use
HEALTHCARE: UCI DISEASE EXPERT'S EFFORTS APPLAUDED
Monday, September 20, 2021
Share this article: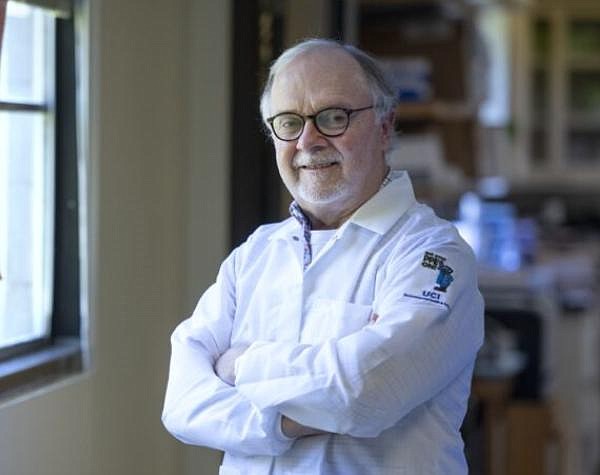 Those still skeptical of the seemingly fast rollout of COVID-19 vaccines can take comfort in knowing the medical technology is actually 40 years in the making—a culmination of decades of work from hundreds of scientists worldwide.

One of whom is Dr. Phillip Felgner, professor of physiology and biophysics and director of the UCI Vaccine Research and Development Center and the university's Protein Microarray Laboratory. He's dedicated his life's work to gene therapy and the immune system.

Felgner's breakthroughs, beginning in the early 1980s, spurred 280 published papers, 50 patents cited by scientists over 38,000 times, and most recently, yielded a rapid response to the pandemic: the development of the first commercially available mRNA vaccines by Pfizer, BioNTech and Moderna.

His contribution have been lauded in the science industry as an outstanding feat in the history of scientific research, and earned him the Global Impact Award at the Business Journal's seventh annual Innovator of the Year Awards, an event held Sept. 9 at the Irvine Marriott.

Gene Therapy Genesis

"It's been great fun for the people in the lab, getting recognition for the work they've been doing for the past 35 years," Felgner says of his recent accolades, which also include prestigious international awards such as Spain's Princess of Asturias Award for Technical and Scientific Research, announced in June.

Felgner is one of the trailblazers of gene therapy, which modifies or corrects abnormal genes to treat a disease.

A Ph.D. in biochemistry from Michigan State University, Felgner began his postdoctoral work at a biophysics lab at the University of Virginia in 1978 to test out a theory that liposomes, or water molecules, could deliver drugs to cells.

But there was a problem: liposomes had a negative charge, as did cells, which meant they would repel away from one another when coming in contact.

In 1982, Felgner started working with chemists at the Palo Alto-based pharmaceutical company SynTex and developed a positively charged liposome, with which he experimented mixing negatively charged DNA.

The result was rather unexpected: what Felgner dubbed a "synthetic, virus-like particle."

These particles could insert genetic material, or nucleic acid such as DNA or RNA, into cells in a process known as transfection. In turn, the cells would create an antibody response.

It was shockingly effective, according to Felgner.

"I thought this process of putting genes into cells is something God does, or evolution anyway," he says. "So easily you can transform cells in a culture dish. It was an awesome thing."

Soon, he was being contacted by venture capital investors to help some faculty members at University of California, San Diego to start a company that would be later known as Vical Inc. He agreed, only if they could try the particle experiment on animals, specifically, living mice.

He knew it worked when the mouse muscle tissue turned blue, the color of protein.

The Road to Vaccinations

The mouse study was published in 1990, but Felgner says he's been thinking about the technology's potential for vaccinations from the beginning.

Felgner then took his experiments with Vical to Merck, the pharmaceutical giant directed by famed microbiologist Maurice Helleman, the inventor of several children's vaccines in the 1950s, including mumps, measles, meningitis and pneumonia.

Helleman was floored at Felgner's discovery. It promised to cut the production of vaccines down to a fraction.

"He was so enthusiastic," Felgner says. "He could envision the production of these nucleic acid vaccines would solve the tremendous manufacturing problem he encountered every time."

For five years, Felgner and his colleagues were paid $1 million a year to further their experiments on mice.

In 1993, Felgner published a paper with Merck showing they could vaccinate mice against influenza, a respiratory virus similar in structure to a coronavirus.

"That could be classified as the first coronavirus vaccination study," he said.

UCI, World Recognition

Felgner joined the UC Irvine faculty in 2002 to continue his research in nucleic acid vaccines.

His current work takes advantage of the "genetic revolution" and advancements in technology by examining antigens for diagnostics and treatment, according to Dr. Steven Goldstein, vice chancellor of UCI Health Affairs.

"Dr. Felgner is one of UCI's many extraordinary investigators," Goldstein says.

"He's brilliant and always looking ahead, but he's also generous and humble. He's in this constant virtuous cycle improving the technology to better help people."

The jury of Spain's Princess of Asturias Award, in announcing their award to Felgner and six others, called them "leading figures in one of the most outstanding feats in the history of science."

"Their work constitutes a prime example of pure research for the protection of public health the world over," the jury said. "Both the development of novel messenger RNA technology and the production of adenovirus-based vaccines open a path of hope for their use against other diseases."

Proof in Antibodies

In May, Felgner and his colleagues released a study that tested for antibodies in 7,000 participants.

The findings showed that fully vaccinated individuals were significantly more protected against COVID-19 and its variants than those who were previously infected.

"It's manifold higher, significantly higher than a natural exposure," he says.

Felgner says that the success of the COVID-19 vaccines are not only an aggregate of decades of painstaking experimentation, but also mark a potential replacement for all vaccines.

"I think that is the business of the future," he says.

"We're at the dawn of a new medical product."