Romeo Power Brings 250+ Workers to OC
NEW CYPRESS HQ RUNS 215K SF
Monday, October 25, 2021
Share this article: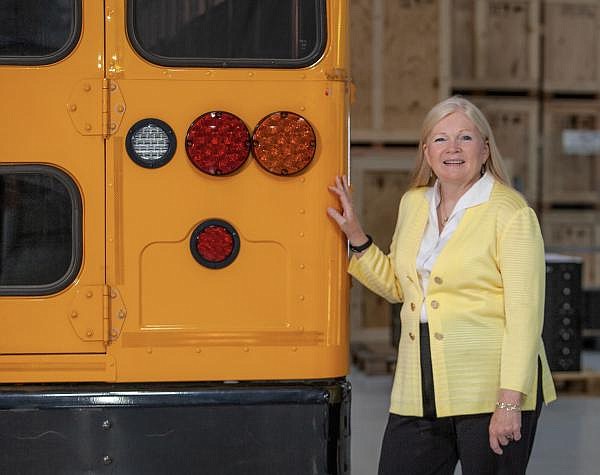 Romeo Power Inc., a battery maker for commercial electric vehicles valued at more than $650 million, will soon be moving more than 250 employees and its headquarters from Los Angeles to Cypress, in the latest sign of Orange County's growing stature as an EV hub.

"We are growing rapidly as the electrification of transportation continues to progress," Romeo Chief Executive Susan Seilheimer Brennan told the Business Journal.

Romeo Power (NYSE: RMO) this month said it inked a deal to lease 215,000 square feet of industrial and office space along Katella Avenue to support the company's expansion of battery development and testing capabilities next to its production line.

It's a big boost in space for the company, whose existing headquarters in the city of Vernon runs 113,000 square feet.

The move comes at a time when Romeo Power's sales are expected to double to $20.5 million this year and quadruple to $102 million in 2022, according to the average estimate of three analysts.

Romeo Power, which went public last year and whose founders count ties to Tesla, SpaceX, Amazon, and Apple, has more than enough money for the move, reporting cash and equivalents of $267.7 million as of June 30.

The company says its products are designed to power commercial vehicles such as trucks, buses and delivery vans.

"We design, do the R&D, produce and ship a battery today for traditional conveyance in the heavy automotive, heavy transportation segment," Brennan said.

Leaving Vernon

The departure from Vernon, which is best known as an industrial-heavy city full of meat-packing plants and warehouses a few miles south of downtown Los Angeles, is one of Brennan's first big actions since being named CEO in August, having replaced Lionel Selwood Jr., who stepped down as both CEO and a board member.

Brennan has more than 30 years of experience in global manufacturing and operations for the automotive and energy industries, including positions at Ford Motor Co. and Nissan Motor Co.

The opportunity to "recruit and retain talent" was a key factor in the move to OC, according to Brennan. "R&D is core to Romeo's success."

"When we identified the location in Cypress, it was perfect for all kinds of reasons," including "the ability for us to grow and have enough space to expand our labs."

The transition to the new facility is expected to begin soon and be completed over the next six to nine months, the company says.

The workforce is growing every day, according to the CEO.

"We have about 250-plus right now, and adding every day," Brennan said, and all will be moved to the Cypress facility, where engineering and production will be located together.

The company has been recruiting executives familiar with Orange County. In June, it named a new chief financial officer, Kerry Shiba, who has worked at Orange County companies like Foothill Ranch's Kaiser Aluminum Corp. (Nasdaq: KALU).

In July, it named as general counsel Matthew Sant, who previously was deputy GC at Irvine-based Skyworks Solutions Inc. (Nasdaq: SWKS).

Reverse Merger

Romeo Power went public through a reverse merger with a special purpose acquisition company, or SPAC, and started trading on the New York Stock Exchange at the end of last year.

So far this year, shares have lost about 78% of their value, trading at $4.85 apiece for a market cap of $656 million as of Oct. 19.

Still, investor website 
Entrepreneur.com
 said earlier this month that Romeo Power was one of three electric vehicle battery company stocks expected to rally more than 70% in the coming months, as more makers take the electrification route.

Romeo Power says it will enable battery-operated vehicle owners "to eliminate negative emissions in a safe and cost-effective manner so they can meet the evolving environmental regulations in the U.S. and abroad."

CEO Brennan, speaking of the emerging EV market, said that "the total cost of ownership, we're confident, will continue to improve."

"The electric vehicle industry has reached a critical inflection point and the demand for affordable high-density battery solutions is at an all-time high," the company added.

In September, Romeo Power and Colorado-based Dynexus Technology Inc., a battery sensing technology company, announced a collaboration to integrate Dynexus's sensors into Romeo Power's batteries.

Cypress Terms

The ability to expand was a key factor in leading Romeo Power to Cypress for its new headquarters and manufacturing site.

The facility at 5560 Katella Ave. will allow for "for faster innovation and time to market."

Romeo Power signed the lease for the new headquarters and manufacturing facility with landlord Warland Investments Co. The tenant is paying monthly rent of 98 cents per square foot for the building at the outset of the roughly eight-year lease, according to regulatory documents.

The property, previously used by trade show vendor GES, has 191,000 square feet of industrial space and the remainder is office space. 
OC Talent Attracts Romeo Power
Finding good workers is the key factor that is bringing battery maker Romeo Power Inc. to Orange County.

"The No. 1 advantage is the ability to recruit and retain talent," Chief Executive Susan Brennan said.

"It's important for a company like Romeo that we're able to attract talent from the production worker to critical engineering," she said, adding that OC is "unique" in that regard.

Many Romeo Power employees are Orange County residents who drive to Vernon, an industrial city a few miles south of downtown Los Angeles, so they are excited to have shorter commutes to Cypress, the CEO said.

"I also want to retain the really good employees we have at Romeo today," she told the Business Journal. "We're looking forward to being a member of the Orange County family.

"I want to thank Orange County and the community for welcoming Romeo."