Midday Stock Roundup
Thursday, October 7, 2021
Share this article: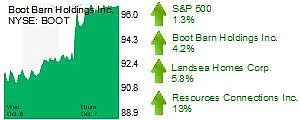 U.S. indexes jumped after a temporary truce in the debt-ceiling standoff in Congress relieved concerns of a possible government debt default later this month, Reuters reported.
The S&P 500 rose 1.3% to 4,421.90 during midday trading.
The Dow Jones Industrial Average increased 1.4% to 34,906.07.
The Nasdaq climbed 1.6% to 14,738.80.
The yield on a 10-year Treasury bond jumped 2.95% to 1.569%.
The price of gold was down 0.2% to $1,758.30 an ounce.
The price of oil increased 1.3% to $78.43 a barrel.
 
RETAIL

Boot Barn Holdings Inc. (NYSE: BOOT) jumped 4.2% to $96.79 per share and a $2.9 billion market cap. Shares are up 10% since Friday. "We also suggest betting on Boot Barn," the investor website Zacks said today, saying the Irvine retailer of western and work-related footwear, apparel and accessories has been successfully navigating the challenging COVID-19 environment.
 
CONSULTING
Resources Connections Inc. (Nasdaq: RGP) surged 13% to $18.89 and a $627 million market cap. The Irvine-based consulting firm yesterday reported fiscal first-quarter revenue and profit that topped analysts' estimates, Zacks reported.
REAL ESTATE
Newport Beach-based homebuilder LandSea Homes Corporation (Nasdaq: LSEA) jumped 5.8% to $9.16 and a market cap of $424 million. The company today announced it has established a $500 million unsecured revolving credit facility, increasing its available borrowing capacity up to an additional $350 million.