Midday Stock Roundup
Monday, October 4, 2021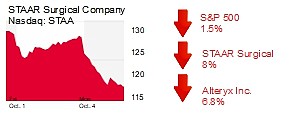 Major U.S. stock indexes fell in Monday midday trading as investors monitor the debt ceiling discussion in Washington and await economic and earnings data to be released this week.
The Nasdaq led losses, dropping 2.4% to 14,212,40.
The S&P 500 fell 1.5% to 4,290.10 and the Dow Jones Industrial Average was down 1.1% to 33,938.92.
Crude oil jumped 2.8% to $77.99.
The price of gold was up 0.7% to $1,770.10.
The yield on a 10-year Treasury increased 0.8% to 1.477%.

HEALTHCARE
Lake Forest-based STAAR Surgical Company (Nasdaq: STAA) led losses among OC firms Monday, with shares down 8% to $117.48 and a $5.6 billion market cap. Shares in the implantable lens maker are trading at less their average daily volume, and are down more than 25% in the past month.

TECHNOLOGY
Alteryx Inc. (NYSE: AYX) decreased 6.8% to $69.01 and a $4.6 billion market cap. Shares in the Irvine-based software provider of data analytics are near the 52-week low of $66.66, and have dropped about 41% since the start of the year.