Mazzo Brings OC Talent To Gene-Focused Firm
HEALTHCARE: TAKES ON CEO ROLE AT AVELLINO
Sunday, May 23, 2021
Share this article: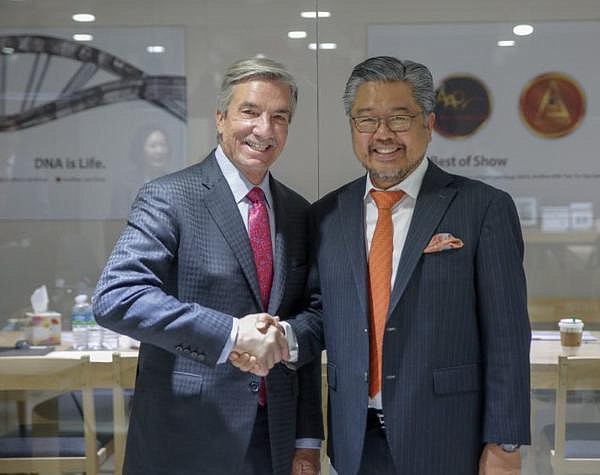 After decades as a top executive in Orange County's ophthalmology industry, Jim Mazzo decided to retire last May.

However, when he left last year as president of the Ophthalmic Devices unit at German-based Carl Zeiss Meditec Inc., he made it clear that he didn't like the word "retire" and would remain active in healthcare.

It was a short retirement.

Mazzo in December took the reins at a gene therapy firm that he believes will revolutionize early diagnosis and targeted medicines for diseases spanning eye, skin and dental care—Menlo Park-based Avellino Lab USA Inc.

"It's still in my blood," Mazzo said of taking the chief executive role again.

"I promised myself I'd only get involved in efforts that are transformational in healthcare, and [Avellino] is an opportunity to challenge my own mindset and learn every day. There is no greater learning than [about] the genetic makeup of us."
 
Avellino, founded in 2008, has historically been focused on gene-based diagnostics, data and therapy to treat eye disorders. It pivoted to coronavirus work last year and introduced some of the first widely available COVID-19 tests to Orange County via partnership with the OC Health Care Agency.
 
For his leadership at Avellino, among numerous other involvements, Mazzo earned a spot on the 28th edition of the Business Journal's OC 50, which this year focuses on executives shaping the future of OC's economy (see Special Report, starting on page 29).

Local Talent

Avellino, which is on track to more than double revenue to $235 million in 2021, is expected to go public next year on Korea's stock exchange. The company has operations in China, Japan and Korea and has grown from about 60 people to around 300 in the past year.

Mazzo, who was previously a board adviser and served on the company's CEO committee, was brought in to provide "operational excellence" as the company grows.
 
Mazzo's "immeasurable business experience with scientific acumen will enhance our ability to continue to lead the way in delivering best-in-class personalized genetic and molecular diagnostics, data, and therapeutics," Gene Lee, founder and chairman of Avellino, said at the time of the announcement.  

Mazzo, who lives and works in Newport Beach, has been busy enlisting local talent to help guide Avellino.
 
He's convinced Richard Gannotta, who offers a "unique understanding of healthcare" as a former hospital leader and technology-minded healthcare executive, to join the company's board.
 
Gannotta was previously CEO of UCI Health and is currently chief healthcare administrative officer at Irvine-based device firm Masimo Corp. (Nasdaq: MASI), OC's fourth-largest publicly traded firm.

Aimee Weisner, another recent board appointee, brings experience taking companies public as general counsel of American Medical Optics; Mazzo led AMO's spin off from Allergan in 2002, and pushed it to become a powerhouse in vision correction surgeries. In 2009, AMO was sold to Abbott Laboratories for about $2.8 billion, and roughly twice the stock price of when it went public.

Weisner also held the GC role at Irvine-based heart valve maker Edwards Lifesciences Corp. (NYSE: EW), where in 2014 she was named outstanding general counsel for a public company by the Business Journal.

She also serves on the board of San Clemente eyecare device and drugmaker Glaukos Corp. (NYSE: GKOS); see story, page 4.

Eyes on Genes  

Avellino is focused on pioneering genetic tests that can detect variants of diseases before symptoms appear. Because its tests identify and isolate genetic markers, Avellino continued to effectively test patients for COVID-19 as variants emerged, Mazzo said.
 
It also recently started shipping its second product, a diagnostic test the company describes as the world's first DNA test to confirm the presence of genetic indicators that are positively associated with corneal dystrophies and keratoconus genetic risk factors.

Some might associate genetic engineering with companies like 23andMe, but "that's looking at just a snippet of the whole human genome," Mazzo said.
 
"If you can manage these diseases with early diagnosis [through genetic testing], you can prevent other symptoms and conditions associated with the diseases."  

Mazzo pointed to key areas the company is looking to impact such as glaucoma, the leading cause of blindness, as well as periodontitis or gum disease, which can lead to heart disease when left untreated. It's also pursuing an approval for atopic dermatitis, a skin condition.

Beyond diagnostics, Avellino is using CRISPR gene editing to manage and potentially cure inherited diseases.
 
"If we're going to control medical costs and have targeted medicines, we've got to look at the genes. That's what's got me so energized about Avellino," Mazzo said.  
Return to Events
 
When Mazzo departed from Zeiss last May, he didn't stop working—though much of his business activities became virtual.
 
In addition to advisory roles at Zeiss and Bain Capital, Mazzo holds board appointments at retinal implant company Neurotech Pharmaceuticals Inc. and Irvine-based LensGen Inc., which is developing a new type of intraocular lens for cataract and presbyopia treatment.
 
The pandemic brought about valuable lessons in "preparedness for the next crisis" and an opportunity to "refocus on family and wellbeing," Mazzo said.
 
However, Mazzo added the pandemic demonstrated "there is no replacement for in-person" events in the device industry where business leaders, physicians and patients come together to identify problems and advance care.
 
Mazzo is also a founder and chairman of Octane, a key local technology and medical accelerator. It is in the process of reintroducing in-person components to its events that went virtual last year, beginning with its Tech Innovation Forum held last week.
 
Ultimately, Mazzo said the past year "taught us how important human engagement is." Since returning to events, "I've seen more smiles—even under a mask—than ever before."