Midday Stock Roundup
Thursday, May 20, 2021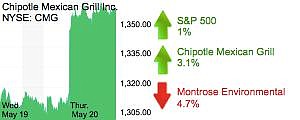 Major indexes inched higher in Thursday midday trading after jobless claims fell to a new pandemic-era low. 
The S&P 500 was up 1% to 4,155.93 during midday trading.
The Dow Jones Industrial Average climbed 0.6% to 34,088.02.
The Nasdaq rose 1.6% 12,639.13.
The yield on a 10-year Treasury bond was down 3.1% to 1.63%.
The price of gold increased 0.04% to $1,882.20.
The price for a barrel of oil decreased 1% to $62.71.
RESTAURANTS
Chipotle Mexican Grill Inc. (NYSE: CMG) in Newport Beach climbed 3.1% to $1,347.66 and a $38 billion market cap. UBS analysts raised Chipotle's rating from hold to buy and boosted its target price from $1,575 to $1,700, citing attractive valuations and multi-year growth opportunities.
ENVIRONMENT
Montrose Environmental Group (NYSE: MEG) fell 4.7% to $47.71 and a $1.2 billion market cap. The Irvine-based provider of environmental services' valuation has more than doubled since going public last July.