Midday Stock Roundup
Thursday, May 13, 2021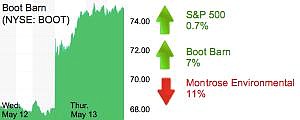 The S&P 500 climbed 0.7% to 4,089.73 in midday trading.
The Dow Jones Industrial Average rose 0.8% to 33,857.39 while the Nasdaq was down 0.1% to 13,018.70.
The yield on a 10-year Treasury bond decreased 1.6% to 1.668%.
Oil fell 4.5% to $63.14 per barrel.
The price of gold was flat at $1,822.90 per ounce.
RETAIL
Irvine-based Boot Barn (NYSE: BOOT) rose 7% to $72.20 and a $2.1 billion market cap after the western retailer announced positive fourth quarter results. The company said yesterday net sales rose 37.2% to nearly $258.9 million and same store net sales grew 26.9%. Shares for the company are currently trading at nearly twice their average volume.
ENVIRONMENTAL SERVICES 
Montrose Environmental Group (NYSE: MEG) fell 11.3% to $47.96 and a $1.3 billion market cap. The Irvine-based provider of environmental services reported yesterday first-quarter earnings per share of 62 cents, missing analyst estimates by 54 cents. Revenue for the quarter came in at $133.8 million versus the consensus estimate of $95.36 million.