Chipotle to Hire 20,000, Boost Wages
Monday, May 10, 2021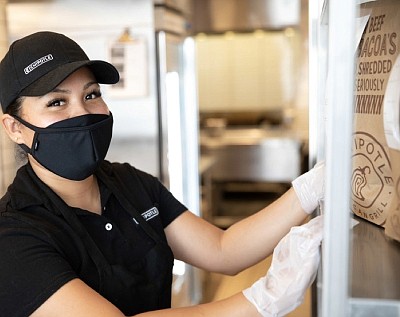 Chipotle Mexican Grill Inc. (NYSE: CMG) said it intends to hire some 20,000 workers this year in the U.S., while also boosting restaurant wages.
The Newport Beach-based company, which counts more than 28,000 restaurants, said the hiring ramp is to accommodate growth in the chain. Chipotle had earlier disclosed plans to open roughly 200 restaurants this year.
The hiring estimate came as Chipotle also announced plans to increase wages at its restaurants, boosting the hourly range from $11 to $18. The move impacts new and already employed workers. The average hourly wage is expected to reach $15 per hour by the end of June.
The pay for a general manager position, which Chipotle calls Restaurateur, is expected to average $100,000. The company said it's possible for employees to work their way up to that position in three and a half years.
Chipotle stock was trading down 1.8% to $1,400.20 per share in midday trading Monday. The company had a recent market cap of $39.4 billion.