Midday Stock Roundup
Thursday, May 6, 2021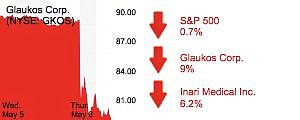 The S&P 500 increased 0.3% to 4,181.22 in Thursday midday trading.
The Nasdaq fell 0.1% to 13,573.46 while the Dow Jones Industrial Average was up 0.5% to 34,403.09.
Crude oil was down 1% to $64.90 a barrel.
Gold climbed 1.8% to $1,816.30.
The yield on a 10-year Treasury decreased 0.9% to 1.57%.
HEALTHCARE
San Clemente-based ophthalmic medical device maker Glaukos Corp. (NYSE: GKOS) was down 9% to $82.14 with a market cap of $2.6 billion. 
The company announced first-quarter earnings yesterday that surpassed expectations. However, guidance of $70 million to $72 million in second-quarter net revenue sent shares down. 
Inari Medical Inc. (Nasdaq: NARI) fell 6.2% to $95.04 with a $5 billion market cap. Shares in the clot removal device maker are still up 20% since the beginning of the year.