Midday Stock Roundup
Friday, March 26, 2021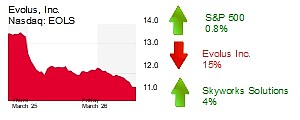 The S&P 500 was up 0.8% in midday trading to 3,940.70.

The Dow Jones Industrial Average increased 0.7% to 32,849.99.

The Nasdaq rose 0.5% to 13,037.50.

The yield on a 10-year Treasury bond was up 2.2% to 1.65%.

Gold ticked 0.4% higher to $1,731.50.

The price for a barrel of oil jumped 4.3% to $61.10.
HEALTHCARE

Newport Beach-based Evolus Inc. (Nasdaq: EOLS) fell 15% to $10.85 and a $384 million market cap. Shares in the Newport Beach-based provider of aesthetic products are down about 35% since Wednesday when the company posted a loss of $110.7 million for the quarter ending December 2020, missing analyst expectations. Shares have still more than tripled since the start of the year. The company more recently announced a mixed shelf offering of $250 million on Friday.
TECHNOLOGY

Skyworks Solutions Inc. (Nasdaq: SWKS) rose 4% to $178.91 and a $29.5 billion market cap. Shares in the Irvine-based chipmaker, which generates a bulk of its yearly revenue from Apple (Nasdaq: AAPL), have more than doubled in the past year amid rising demand for 5G devices, including Apple's newest product, iPhone 12.
MEDIA

Irvine-based Vizio Holdings Inc. (NYSE: VIZIO) jumped 15% to $21.89 and a $4 billion market cap. The TV and media company went public on Thursday when shares closed down about 9%.