Disneyland Begins Planning Effort for Theme Park Expansion
Thursday, March 25, 2021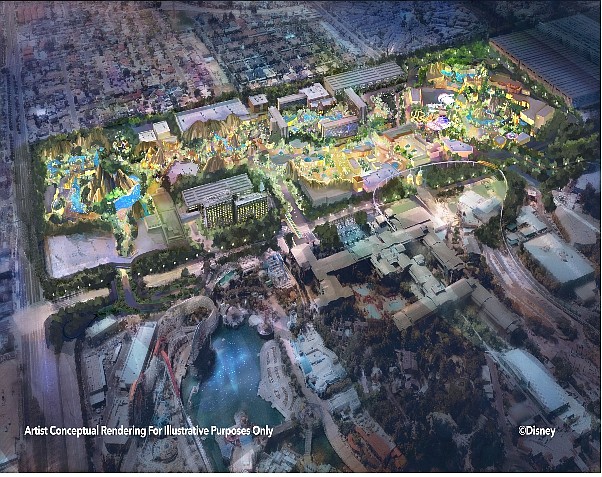 Disneyland Resort in Anaheim is proposing a large-scale expansion that could add new theme parks, hotels, dining and parking within the city's 1,100-acre resort district.
It would be the largest expansion since the 1990s, when the resort received approvals to build its second theme park, California Adventure, along with new hotels and the Downtown Disney shopping district.
The resort—which currently includes two theme parks, three hotels, the shopping district and parking—has current entitlements in place that allows the addition of new attractions, hotels, retail and parking on land already owned by Walt Disney Co.
However, those approvals—created in the 1990s with the last major expansion—limited the types of uses allowed in each resort district, thus limiting the park's physical expansion. 
It's not clear how much the company is looking to spend on the long-term expansion, called DisneylandForward, but it said it would not seek any public funds to help finance the project.
The company said it also isn't "seeking additional square footage or hotel rooms beyond what is currently approved and allowed," instead just looking to work "with the city and community to update our existing approvals to allow for integrated development to be located and built throughout Disney properties."
The company announced initial plans for the long-term expansion on Thursday; next up is a draft Environmental Impact Report and other public hearings.
"We are at the very early stages of this effort with the city, and this multiyear process will include many opportunities for public involvement," it said.
The theme park, which has been shuttered since March 2020 due to the pandemic, is typically the county's largest employer with about 30,000 cast members. It plans to reopen on April 30.