Midday Stock Roundup
Tuesday, March 23, 2021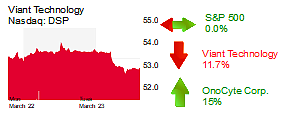 The S&P 500 was flat at 3,943.17 during midday trading.
The Dow Jones Industrial Average fell less than 0.1% to 32,703.07.
The Nasdaq decreased less than 0.1% to 13,366.33.
The yield on a 10-year Treasury bond fell 2.1% to 1.65%.
The price of gold dropped 0.7% to $1,725.40.
The price for a barrel of oil decreased 4.2% to $58.95.
TECHNOLOGY
Ad tech company Viant Technology Inc. (Nasdaq: DSP) in Irvine fell 11.7% to $52.78 per share for a market cap of $3.1 billion. The company on Monday, in its first earnings report as a publicly traded company, reported fourth-quarter revenue and earnings per share that beat analyst estimates, but said first-quarter revenue may show no growth or increase by 1%. Shares closed at $55.39 apiece on Viant's first day of trading on Feb. 11.
 
HEALTHCARE
Irvine-based cancer test maker Oncocyte Corp. (NYSE: OCX) jumped 15% to $5.39 per share for a market cap of $479.2 million. Earlier in the day, analysis website SimplyWallSt.com said it was "good to see" that Oncocyte President and Chief Executive Ron Andrews recently bought almost $53,000 worth of stock in the company.
Evolus (Nasdaq: EOLS) climbed 14% to $16.34 and a $551 million market cap. The Newport Beach-based provider of aesthetic products has disclosed several transactions with its Korean partner Daewoong to improve its financial positions, the website Seeking Alpha reported. Evolus is scheduled to announced fourth-quarter results tomorrow.
BANKING
Shares of Costa Mesa-based Pacific Mercantile Bancorp (Nasdaq: PMBC) rose 11% to $8.98 and a $213 million market cap. Santa Ana-based Banc of California (NYSE: BANC) yesterday said it intends to buy Pacific Mercantile in an all-stock transaction valued at $235 million. Banc of California shares fell 4.6% to $18.63 and a $946 million market cap.