Midday Stock Roundup
Wednesday, March 3, 2021
Share this article: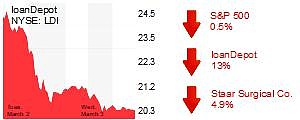 Indexes were mixed today as the S&P 500 dropped 0.5% to 3,851.92 and the Nasdaq fell 1.6% to 13,145.60 and the Dow Jones rose 0.3% to 31,483.49.
The yield on a 10-year Treasury bond increased 3.8% to 1.469%.
The price of gold fell 0.9% to $1,717.90 an ounce.
The price for a barrel of oil was up 2.8% to $61.42.
MORTGAGES:
LoanDepot (NYSE: LDI) dropped 13% to $20.30 and a $7 billion market cap. Shares of the Foothill Ranch provider of mortgages are still above their $14 IPO price on Feb. 12.
MEDICAL DEVICES
Staar Surgical Co. (Nasdaq: STAA) fell 4.9% to $98.68 and a $4.6 billion market cap. Shares of Lake Forest-based maker of implantable lens are still up three-fold since last March.