Midday Stock Roundup
Tuesday, March 2, 2021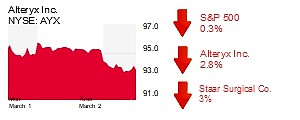 The S&P 500 was down 0.3% to 3,890.32 during midday trading.
The Dow Jones Industrial Average fell less than 0.1% to 31,514.82.
The Nasdaq fell 0.9% to 13.467.92.
The yield on a 10-year Treasury bond decreased 2.7% to 1.4%.
The price of gold rose 0.5% to $1,731.80.
The price for a barrel of oil climbed 0.3% to $60.84.
TECHNOLOGY
Irvine-based data analytics software maker Alteryx Inc. (NYSE: AYX) fell 2.8% to $93.49 per share, dragging the market cap down to $6.3 billion. The tech sector was leading stock losses amid valuation warnings, Bloomberg News reported.
HEALTHCARE
Staar Surgical Co. (Nasdaq: STAA), the Lake Forest-based maker of implantable lenses, fell 3% to $103.32 per share for a market cap of $4.8 billion. SeekingAlpha.com said the day before that STAAR's "recent bull run is over" and the company's stock "looks a little overvalued."